Alex Tagliani made it very clear that Canadian Tire Motorsport Park is his house during Saturday's qualifying for Sunday's Chevrolet Silverado 250 NASCAR Camping World Truck Series race.
The Montreal native took the pole with a track record speed of 80.084 mph, marking the second straight year that he's qualified No. 1 for the Truck event in Bowmanville, Ontario, Canada.
Erik Jones qualified second (80.118 mph), followed by Matt Crafton (80.394), points leader Tyler Reddick (80.475) and Cole Custer (80.640).
Last year's race winner, Ryan Blaney, was not on hand to defend his title. Instead, he finished second in Saturday's Xfinity Series race at Road America in Elkhart Lake, Wisconsin.
The qualifying session was delayed for more than a half hour under a red flag period after Robert Mitten slammed his truck into a tire wall at the end of Turn 8.
The truck continued going, climbing the tire wall and eventually came to rest backward and standing up against the catch fence.
The truck was extensively damaged and track officials had to make repairs to the tire wall before qualifying could resume.
Mitten was uninjured in the mishap.
"I was just trying to go as fast as I could," Mitten told Fox Sports 1. "I didn't think I did anything wrong. I felt like it was sliding out, I'd catch it, there's plenty of room there and it didn't catch.
"The next thing I know, the back end came around and into the wall I went. … I just couldn't believe it would do that. It just came around. It was a pretty scary experience. It's a real wallop"
Although Mitten, of Plantation, Florida, qualified 22nd, he told Fox Sports 1 that he doesn't have a back-up truck and will not race on Sunday.
Sunday's race is due to take the green flag shortly after 1:30 pm ET.
Here's how the qualifying session played out: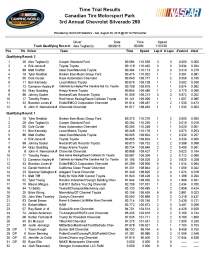 Follow @JerryBonkowski