Will the real Mark Martin please stand up?
In the cavalcade of retro paint schemes that have been revealed for the Sept. 6 Southern 500, we now have a second one inspired by Martin's historic career.
Roush Fenway Racing has revealed that Trevor Bayne's No. 6 Advocare Ford will honor the former Roush driver and arguably his best Sprint Cup season.
The No. 6 will bear the Valvoline paint scheme Martin raced in the 1998 season. In 33 races, Martin won seven times, earned 22 top-five finishes, 26 top 10s and three poles, only to finish runner-up to Jeff Gordon by 364 points.
"It's a huge honor to run this paint scheme in Darlington," said Bayne in a team release. "This scheme was so successful in the late 90's with Mark driving it and it's really cool to see it back on the track and on (the) No. 6 Roush Fenway Ford again."
Martin was actually the first to reveal the paint scheme on Twitter.
"It will be really cool to see that car back on the track," said Martin in the release.. "It will definitely bring back a lot of great memories. We had a tremendous amount of success during that time period and I look at it as one of the best periods in my racing career. I hope all the guys who worked very hard on our team during that time will enjoy seeing it back on track again and that they will have a moment of pride in what we were able to accomplish."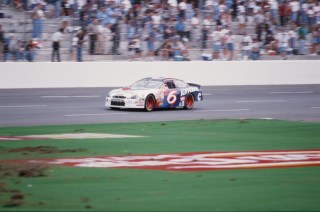 Additionally, Richard Petty Motorsports has Sam Hornish Jr.'s No. 9 Ford looking like the car Martin had most of his Xfinity Series success in with Winn-Dixie as a sponsor.
This isn't the only old Valvoline paint job in the field at Darlington Raceway. Dale Earnhardt Jr.'s No. 88 Chevrolet will actually be sponsored by the motor oil and has an early 1980s paint scheme.