Two races remain before the Chase for the Sprint Cup starts, and the 16-driver field is looking solid with little chance of a change.
Four of the five winless drivers seeking to make the Chase via points have at least a 97 percent chance of making it. The sixteenth-ranked driver, Clint Bowyer, is strong at 89 percent.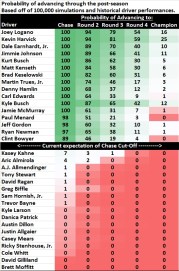 Bowyer is 35 points ahead of Aric Almirola and 37 points of Kasey Kahne. It's doubtful those drivers can pass him on points. Bowyer could finish in the top 20 in the next two races and still be fine. Even if he finishes last at Darlington next week (in a race on NBC), it would take a top-10 finish from Almirola or Kahne to overtake Bowyer .
If Bowyer doesn't lose on points, then certainly nobody else will. That means the only way for a new Chase driver to pop through is by winning one of the next two races. Kahne has the best chance of a win among the drivers on the outside, but his chances are a slim 7 percent. Besides going winless in 2015, Kahne has only two top-fives, while leading a paltry 46 laps all year. His previous worst year in that category was 2008 when he led 186 laps.
In the case of Kyle Busch, he's 29th in points but has a strong 46-point cushion over 31st place Cole Whitt. Outside of a 13th-place finish at Talladega, Whitt has not finished in the top 20 all season. Busch could finish last in the next race and still be in the top 30, regardless of whatever everybody else does. Busch could even finish last in BOTH of the next two races and still make it. Technically Busch's chance is 99.98 percent – but we can be safe in rounding that to a solid 100 percent and call him in. Busch doesn't need to worry now.
If you consider the overall 16-driver field, there is a whopping 83 percent chance now that none of them will drop out. There is only a 17 percent chance that any new driver will change the current composition of the Chase (through some combination of new winners sneaking in).
With these spots basically locked up, teams should start experimenting now with new setups that might help them when the Chase begins. Even Bowyer, the last man in, should be gambling for a win rather than trying to play it safe.
How the Chase model works
Remember the way a driver qualify for the Chase for the Sprint Cup:
(1) Must be in the top 30 in points;
(2) Qualify with a race win.
(3) If fewer than 16 drivers meet the first two criteria, the remaining slots are given to winless drivers highest in the points standings.
Andrew Maness (from racing data firm PitRho) and I have a model that simulates the season 100,000 times based on each driver's performance in 2013-2015. Not surprisingly, Harvick has the highest chance of winning the title. He was last year's champion and has been consistently strong all year, finishing first or second in almost half the races, with a top 10 in almost every race.
Sign up at nbcsports.com/gridchallenge for a chance to win $16 million.