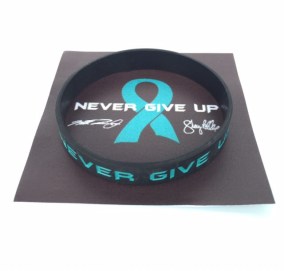 "Never Give Up" has become the slogan of Martin Truex Jr. and his girlfriend, Sherry Pollex, in the wake of Truex overcoming career struggles and Pollex' Ovarian cancer diagnosis last year.
In response to the support from fans from around the world, the couple has designed and released a "Never Give Up" bracelet to be sold, with proceeds going to raise awareness, advocacy and research funding for ovarian cancer.
The matte black finish represents the color of Truex' No. 78 Chevrolet for Furniture Row Racing, while the teal on the lettering comes from the official color of ovarian cancer awareness.
The wristband is $4 and can be ordered online by visiting http://www.martintruexjr.com.