When you see Sam Hornish Jr.'s car for the Sept. 6 Southern 500 at Darlington Raceway, you'll be wondering if it's 1998 all over again.
Richard Petty Motorsports announced Tuesday that Hornish's No. 9 Ford will be sponsored by the supermarket chain, Winn-Dixie.
While the chain has sponsored NASCAR races before, most recently the Xfinity Series' Winn-Dixie 300 at Talladega Superspeedway, the store brand is most often associated with former driver Mark Martin. Martin earned a good chunk of his 49 Xfinity Series wins in a black No. 60 Ford sponsored by Winn-Dixie.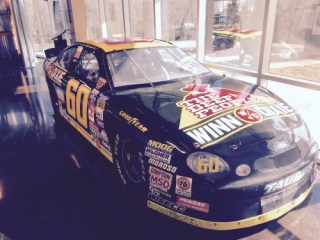 While RPM is calling the No. 9's paint scheme "retro," you'll see it's not an all-out attempt to recreate the car that inspired it.  The side numbers are different colors and it doesn't have the classic store logo on the hood or the rear panels, seen here on Martin's car from 1998 that's at the Roush Fenway Racing Museum in Charlotte, N.C.
"Winn-Dixie has a long history within NASCAR," said Hornish in a team release. "They've had a presence in the sport since I can remember, and I'm looking forward to representing their throwback paint scheme on the track. Mark [Martin] and Winn-Dixie set a precedent of winning, and that's exactly what we're hoping to do in Darlington."
Martin won eight Xfinity races at Darlington, with all of them coming with Winn-Dixie as his sponsor.
The Southern 500, which airs on NBC, returns to its traditional Labor Day weekend spot on the schedule for the first time since 2003.