The NASCAR Sprint Cup Series makes its second and final visit of the season to Michigan International Speedway. Only three races remain until the Chase for the Sprint Cup field is set after today's event.
Here are the particulars for today's race (all times are ET):
START: Michael Harris, executive director of Paralyzed Veterans of America in Michigan, will give the command for drivers to start their engines at 2:38 p.m. ET. The green flag is scheduled for 2:46 p.m.
DISTANCE: The race is scheduled for 200 laps (400 miles) around the 2-mile track.
COMPETITION CAUTION: It will take place on Lap 20.
PRERACE SCHEDULE: The Sprint Cup garage opens at 8:30 a.m. The drivers meeting is at 12:30 p.m. Driver introductions are at 2 p.m.
NATIONAL ANTHEM: It will be performed by Jena Irene at 2:31 p.m.
TV/RADIO:  NBCSN will broadcast the race (and streaming available at http://stream.nbcsports.com/liveextra), starting with NASCAR America at 1:30 p.m. and Countdown to Green at 2 p.m. Motor Racing Network will broadcast the race on radio and at MRN.com with its prerace show at 1:30 p.m. ET. SiriusXM NASCAR Radio will carry the radio broadcast.
FORECAST: The wunderground.com site predicts 83 degrees at race time with a 0 percent chance of rain.
LAST TIME: Kurt Busch won the rain-shortened race in June, taking the lead six laps before the race was stopped when Kyle Larson's fuel gamble fizzled and he had to pit from the lead. Dale Earnhardt Jr. finished second. Jeff Gordon led 68 of the 200 laps to win this race last August with Kevin Harvick placing second.
TO THE REAR: Kyle Busch will start at the back of the field because he had to go to a backup car after an incident in the final practice session Saturday. Austin Dillon will start at the rear because of an engine change.
STARTING LINEUP: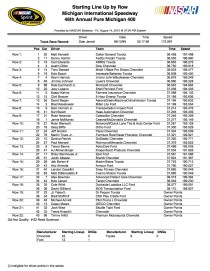 Click here to sign up to play the $16 Million Perfect Grid Challenge.