With only four races left before the start of the Chase for the Sprint Cup, winless drivers ranked outside the top 16 of the playoff grid are running out of time to make a difference.
One of those drivers is Kasey Kahne, who finished 42nd at Pocono Raceway and 43rd at Watkins Glen International.
According to CNBC's Eric Chemi in his weekly look at Chase probabilities, Kahne's chances of making the postseason have dropped from 77 percent to 12 percent in that two-week span.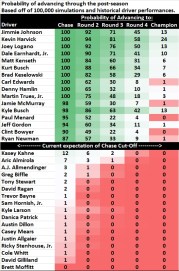 After a disastrous outing at WGI, Jeff Gordon's chances slipped from 99 percent to 94 percent. The puts him in a group of five drivers in the "green" who don't have wins but reasonably can be expected to make the 16-driver Chase. The others are Jamie McMurray, Paul Menard, Ryan Newman and Clint Bowyer.
The wild card is Kyle Busch. Even with four wins, Busch sits at 30th in the points and has a 95 percent chance of making the Chase.
With four races left, Chemi writes there is an 11 percent chance the regular season will end with the current number of winners (11). While there could be as many as 15 regular-season winners, the best odds (36 percent) are for 12 winners when the the checkered flag waves at Richmond.
Sign up to play the $16 Million Perfect Grid Challenge