In a nail-biting finish, Joey Logano passed an out-of-fuel Kevin Harvick two turns from the checkered flag and went on to victory in Sunday's Cheez-It 355 at Watkins Glen International.
Logano, who led only the final lap not only had enough fuel to pass Harvick, he also did a full celebratory burnout.
Logano became the first driver in Watkins Glen history to sweep the weekend, also winning Saturday's Zippo 200 Xfinity Series race for his first NASCAR career sweep. He's also the 20th different Sprint Cup winner at the upstate New York racetrack.
Logano's first career Sprint Cup victory on a road course contrasted last week's race at Pocono, which was also determined by fuel mileage. Logano ran out of gas with three laps left while leading.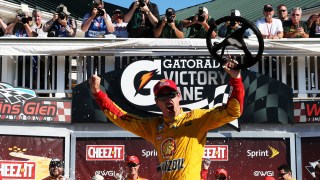 Harvick took lead from Matt Kenseth on Lap 61, ran out of fuel two turns from the finish, giving up the lead to Logano.
Kyle Busch was also at risk of running out of fuel, but still managed to pass Harvick on the frontstretch to take second. Harvick finished third, followed by Kenseth and Kurt Busch.
Clint Bowyer finished sixth and was followed by Brad Keselowski, Carl Edwards, Sam Hornish Jr. and Jimmie Johnson.
MORE: Results, stats and winnings for the Cheez-It 355 at Watkins Glen
MORE: Kyle Busch now 30th in points, becomes Chase eligible
How Logano won: After running out of fuel with three laps left in last Sunday's race at Pocono, Logano proved he learned his lesson well, coming back to Watkins Glen to save enough fuel to pass Kevin Harvick coming out of Turn 6 and heading into the seventh and final turn. Logano conserved fuel better than any other driver, and the proof is in how he managed to reach the finish line first. One other key to Logano's win: On the final pit stop, Logano took just fuel, while Kyle Busch took fuel and tires and came out behind Logano. That decision by Logano and crew chief Todd Gordon not to take tires ultimately earned the 22 team the 92nd Sprint Cup win for Team Penske and the 10th career Cup win for Logano. It's also his second win of the season, starting with a triumph in the season-opening Daytona 500, making Logano the seventh repeat winner of 2015.
Who else had a good race: Kyle Busch has completed his long comeback and finds himself now in the top-30 in the Sprint Cup standings and is officially on the Chase for the Sprint Cup grid. However, Busch must maintain that position in the final four races, especially after the final Chase qualifying race at Richmond, to assure he makes the playoffs. … Despite running out of fuel, Harvick coasted down frontstretch to finish third and maintain his lead in the Sprint Cup standings. It was Harvick's 15th top-five finish in this season's first 22 races. … Pocono winner Matt Kenseth earned his career-best finish on a road course, ending up fourth in Sunday's race.
Who had a bad race: Jeff Gordon's hopes of winning Sunday were dashed early, as brake issues caused him to fall back four laps. Gordon, who is still seeking his first win of 2015, finished 41st. … Defending race winner AJ Allmendinger shut his engine to save fuel while racing under caution on Lap 51, and was unable to restart it. He was pushed to pit road and finally was able to get his engine re-started. Allmendinger finished 24th, a big blow to his Chase hopes. … A bad restart on Lap 49 by Sam Hornish Jr., saw several cars behind him involved in an accordion-like crash. Suffering the most damage were Jamie McMurray (finished 40th), and Kasey Kahne (42nd) … Bad luck again befell Tony Stewart. He started third but suffered a broken drivetrain on Lap 56, ending his chance to extend his Watkins Glen wins record to six, not to mention qualifying for the Chase. Instead, Stewart finished last in the 43-car field.
Notable: Sunday marked the fifth consecutive race that a Joe Gibbs Racing and Team Penske driver has finished either first or second. … The track announced shortly after the green flag that it had sold out all reserved grandstand seats. … Denny Hamlin had the hood on his car rise up and fold back over the windshield, just as it did at Indianapolis. Hamlin came in for a backup hood and returned to the race. He finished 27th. … Hornish finished ninth to earn his second-best showing of the season. … Aric Almirola got loose early and Paul Menard ran into him. Almirola lost more than a lap while having repairs on pit road. But Almirola rallied to finish 16th, while Menard held on for a 13th-place showing. … Kurt Busch (finished fifth) earned his sixth top-10 finish in his last eight starts at The Glen.
Quote of the day: "I made it longer this week than last. I was pretty awful last week." – Kasey Kahne, who finished 42nd after being caught up in an accordion-like wreck just past the halfway point of the race, told NBCSN. It was Kahne's second consecutive DNF due to a wreck and hurts his chances of making the Chase.
What's next: Pure Michigan 400, August 16, 2:30 pm ET (NBCSN)