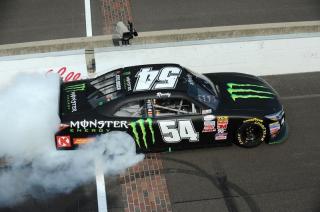 Kyle Busch endured the heat to win Saturday's Lilly Diabetes 250 and Sunday's Brickyard 400 at Indianapolis Motor Speedway.
But Busch also endured some extra heat for doing his celebratory burnout following the Xfinity race on the fabled three-foot stretch of bricks at IMS' start/finish line, according to Curt Cavin of the Indianapolis Star.
Busch received numerous complaints from fans on social media for leaving tire marks on the bricks.
According to Cavin's story, "Even IMS officials sent a message of displeasure through proper NASCAR channels."
So when Busch won Sunday's race, speculation abounded whether he would do another burnout on the sacred stretch of bricks.
As it turned out, Busch learned from the error of his ways the day before. He drove up to the flag stand, took the checkered flag and drove away without defacing the bricks further.
"I just didn't want to hear (the complaints), so I did my own deal and took my own sort of victory lap and gave the bow to the crowd later when there was a bunch of fans and Kyle Busch fans that were sticking around at the end," Busch said after the race.
There have been other instances of NASCAR drivers defacing the stretch of bricks that Cavin cites in his story, including Jimmie Johnson's burnout after the 2012 Brickyard 400.
IMS president Doug Boles understands why drivers like to celebrate such a spectacular win at such a legendary facility.
But given there's 2.5 miles of asphalt to celebrate on, "There's 3 feet of race track there that we ask 'don't do it' on," Boles told The Star.
Track maintenance officials are in the process of removing Busch's tire tracks in time for next week's MotoGP race at IMS.
Follow @JerryBonkowski