Carl Edwards isn't just a NASCAR driver, he's also somewhat of a NASCAR historian.
He likes to go back in the day and see what Sprint Cup-level racing was like 20, 30, 40 or more years ago.
While taking part in Wednesday's test at Bristol Motor Speedway, Edwards was asked about the various initiatives NASCAR is attempting – including low downforce and high-drag conditions specific to each racetrack – to improve racing as much as possible.
"I applaud NASCAR for trying to do everything they can," Edwards said. "They're trying all these different things to produce the best racing they can."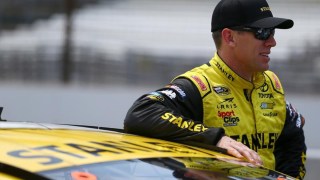 Then out came Carl the NASCAR historian's perspective, and his hopes that the sanctioning body continues in its quest to go back to the way things used to be.
"I actually spent a little bit of time on YouTube last night, watching old races," Edwards said. "I watched one from 1980, looked at a bunch of highlights from around that time period.
"I looked at some racing from the early '90s, and really, I believe, as we lose aero dependency, as they take downforce away, you're just going to see better and better racing.
"There's nothing better than stock cars racing close and doing what stock cars have done for 50 years. I really think the more we go back towards that, the better off we're going to be."
Follow @JerryBonkowski