Tyler Reddick was fastest in Wednesday's second and final Camping World Truck Series practice for tonight's third annual 1-800-Car-Cash Mud Summer Classic at Eldora (Ohio) Speedway.
Reddick, currently second in the NCWTS point standings, had a field-best speed of 89.264 mph (at 20.165 seconds).
Ty Dillon was second-fastest (88.924 mph at 20.242 seconds), followed by Timothy Peters (86.248 mph/20.870 seconds), Bobby Pierce (86.157 mph/20.892 seconds) and Christopher Bell (86.087 mph/20.909 seconds).
Qualifying takes place at 5:15 pm ET, followed by a series of five qualifying races from approximately 7 to 8 pm ET. The main event takes the green flag at 9 pm ET.
Here's how the second practice played out: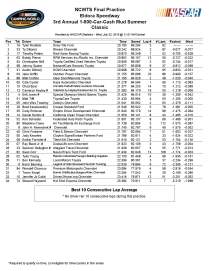 Follow @JerryBonkowski