It was much more than beginner's luck for Bobby Pierce, who earned his first Camping World Truck Series pole position — and in his first career start — Wednesday at Eldora (Ohio) Speedway.
Pierce, 18, from Oakwood, Il., is a veteran dirt racer but hadn't driven in the Camping World Truck Series before Wednesday.
Not a problem, as he looked like a seasoned veteran when he shot to the top of the 34-driver field, taking the pole with a speed of 86.889 mph (at 20.716 seconds). He is the fifth driver in series history to win the pole in his truck debut.
It also was the also first career truck pole for longtime team owner Mike Mittler. The Missouri-based MB Motorsports has employed several prominent NASCAR drivers over the years, including Brad Keselowski, Jamie McMurray and Carl Edwards.
Truck series veteran Johnny Sauter took the outside pole (84.818 mph, 21.222 seconds), followed by Ray Black Jr. (84.567 mph, 21.285 seconds), Cameron Hayley (84.830 mph/21.332 seconds and John Wes Townley (84.309 mph/21.350).
Even though Pierce turned the fastest lap, he won't necessarily start first in the race. The qualifying session set the starting order for five heat races that will set the starting lineup for Wednesday's main event.
Several drivers wound up in the wall with damaged trucks, including Ty Dillon, Cole Custer and Ben Kennedy. It didn't appear any driver would have to go to a backup truck for the heat races, which will begin at 7 p.m. ET .
The green flag for tonight's 1-800-Car-Cash Mud Summer Classic is expected to drop shortly after 9 p.m. ET.
Here's how truck qualifying played out: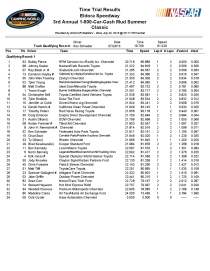 Follow @JerryBonkowski