While the high-drag aero package debuting in Sunday's Brickyard 400 at Indianapolis Motor Speedway has been tested, nobody knows what type of racing it will produce on the flat, 2.5-mile track.
The package – which will also be used at Michigan International Speedway – consists of a 9-inch spoiler, 1-inch wicker bill, 43-inch radiator pan and a 2-inch splitter leading edge. One Sprint Cup crew chief doesn't know what to expect but thinks it could lead to closer racing at a track known for a lack of passes for the lead in recent years.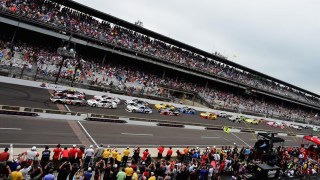 "I think that the cars are going to be closer together with this package," said Jason Ratcliff, crew chief for Matt Kenseth, in a team release. "The drivers are going to be just as ambitious to go out there and win the race, so it could turn into a free-for-all." 
Kenseth, who has finished in the top five in three of the last four races at the track, says successfully getting around the track reliant on a car's momentum.
"You need to be really free there in order to keep your momentum but still tight enough to stay in control," Kenseth said in a team release. "It's a tough track honestly. Turn 1 funnels down and gets pretty narrow, and Turn 2 and Turn 4 are quite a bit different as well. You need to get through Turn 2 fast enough in order to get down the backstretch without any issues as well."
Kurt Busch, who has raced at Indy in both NASCAR an IndyCar in the last year, noted the new package will allow for more "on-throttle time."
"What is tough about a stock car versus an IndyCar at Indianapolis Motor Speedway is that it's a flat track and a stock car is so heavy it chews up the tires and it doesn't corner all that well," Busch said in a team release. "We are hoping that the drag will create a big wake going down the straightaways for cars to make big, bold moves going into the corners."
Ryan Newman, an Indiana native and the 2013 Brickyard 400 winner, "commends" NASCAR for its efforts to improve competition, but isn't very excited about this weekend's changes.
"Any time you can improve the product sooner than later is good for everyone in the sport.," Newman said in a team release."I'm not sure a change at Indy is needed in my opinion. It is one of our crown jewels, so I'm not sure if it's a place we should be experimenting. I think we'll just have to wait and see what happens."
The 46 teams entered into the Brickyard 400 have to wait until Friday. The Sprint Cup Series has three practice sessions scheduled beginning at 9 a.m. ET.
"We get the early practice session so that will help," Carl Edwards said in a release. "I really think nobody will really know how this is going to go until we're all out there racing, because everyone's handling and the way everybody's car works will be dictated, will be based on how they race around a big group of cars with all the air being disturbed with the big aerodynamic devices that are on the car this week."