LOUDON, N.H. – Low downforce.
High drag.
Middle-of-the-road speculation.
Where will NASCAR land with its rules with the Chase for the Sprint Cup looming and myriad options to be assessed and evaluated over the final eight races of the regular season?
That was the pressing question hanging over the New Hampshire Motor Speedway garage Friday as teams prepared for Sunday's 5-Hour Energy 301, which is among the last races remaining before the Chase that are run being under the original 2015 rules package.
In two of the next four races — at Indianapolis Motor Speedway and Michigan International Speedway — a high-drag aero package will be employed that essentially is the opposite approach than a lower-downforce package that made its debut (to mostly rave reviews from drivers and fans) at Kentucky Speedway.
A test was held Monday through Wednesday at Chicagoland Speedway, where reams of hard data were compiled, but few facts emerged about what might be the future direction for NASCAR's premier series.
Though it certainly seems track-specific rules changes are the rage, the uncertainty about implementing them is challenging for teams trying to assemble a game plan for tackling the Chase for the Sprint Cup, which will begin Sept. 20 at Chicagoland.
NASCAR hasn't said the rules will be altered for the 10-race title playoff – which will feature five 1.5-mile ovals that are in the cross-hairs for potential rules changes aimed at enhance passing (which happened at a 132% greater clip at Kentucky), particularly in swapping the lead.
But the sanctioning body also hasn't ruled out tweaking tracks during the Chase, either.
Given that the Kentucky rules modifications were announced with only three weeks of lead time, it's conceivable that much could change between now and when 16 teams begin dueling for the title in two months – making it virtually impossible to build an informed agenda that maximizes a rare test such as Chicagoland (13 of those were sessions slated for 2015).
"It's hard to do that right now because we don't know," Team Penske's Joey Logano said. "I don't think anybody knows what we're going to have.
"It could be the package we've been running all year.  If things work out, it could be the new low downforce package.  If things are great in Indy, who knows what happens?  You'd think that would just stay at Indy and Michigan, but who knows?  There are just so many unknowns right now that you've just got to focus on the things that you do know. There are parts on your car that are just going to make your car faster, no matter what aero package you've got."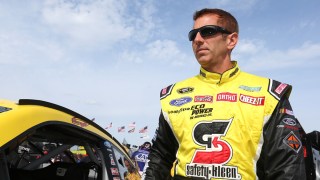 It still has made for some extreme cases of befuddlement and frustration for teams, namely Greg Biffle's at Roush Fenway Racing.
His  No. 16 Ford tested at Kentucky Speedway for three days in mid-April … and yet when the circuit  returned to the 1.5-mile oval last week, the lower-downforce package made its debut.
At Darlington Raceway last month, Biffle tested for two days with the current rules package. But that approach since has been junked for the Southern 500, and the Sept. 6 race will feature the lower-downforce rules used at Kentucky.
Biffle was one of 13 drivers who tested Wednesday at Chicagoland. While some tried all three  packages, or focused on a combination of two, Biffle worked solely on the current rules.
"It's hard for us considering the position we're in as a team to manage that moving target, but, at the same time, we understand that this is changing around," Biffle said. "Actually, I really like the package that we ran at Kentucky and what we're going to run at Darlington, and maybe if we tweak on that, and that kind of continues to put on good racing, maybe that's the package.
"So we (worked) on 2015 stuff,  and hopefully, it wasn't the sixth day we've been (testing) on the race track that we're going race something different, but we don't know."
If the goal is the greater good of improving the quality of racing by reducing the effect of aerodynamics, however, Biffle said his team gladly would take its lumps in the wake of what might have been the best race of the season.
"I'm game for all the changes they're doing," he said. "From the driver's point of view, Kentucky was probably one of the best races that I've been in in a long time because we were able to do things we couldn't do with the car before.
"You weren't stuck behind that guy. You were stuck behind that guy because you always have been, but not like it was when the downforce was on it, it seemed like.  It seemed like it was a step in the right direction.  I thought it was much better."