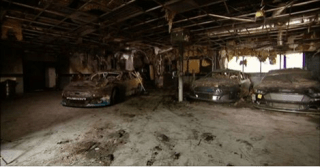 Be it ever so humble, there's no place like home for Leavine Family Racing.
The single-car Sprint Cup team has resumed operations this week after completing the move back into its Concord, N.C., shop, which was severely damaged by a fire in early May.
The cause of the fire, which destroyed four race cars and other equipment, as well as more than 3,000 square feet of the interior of the building, remains under investigation.
The team had spent the last two months working out of the Penske Racing in nearby Mooresville, N.C.
To celebrate its move back to home base, the team announced a new partnership with Monitronics Security, which will install a new security and fire monitoring system at LFR.
Monitronics will also serve as an associate sponsor on the team's No. 95 Ford Fusion in upcoming Sprint Cup races at Chicago, Charlotte and Texas.
"We are thrilled that Monitronics has offered to help us as we move back in and continue operations in our shop in Concord," team owner Bob Leavine said in a media release. "The fire was certainly a setback for our team, but we saw significant support from the NASCAR community – including our partners and fans."
Follow @JerryBonkowski