SPARTA, Ky. – Tommy Wallace woke up Monday morning to a text message that terrified him, even though the news ostensibly was positive.
"That was the worst crash I've ever seen in my life," the message read, "He's OK. I talked to him a little while ago. Don't worry. He's fine. Nothing's wrong with him."
Wallace, the interior mechanic who is responsible for the installation and security of the seats in Austin Dillon's No. 3 Chevrolet, felt his stomach turn after reading the dispatches from Josh Sisco, who manages the car's interior at the racetrack.
Then Wallace went online and watched the video of Dillon's spectacularly terrifying crash at Daytona International Speedway that has dominated the highlight reels the past four days.
And he felt even worse.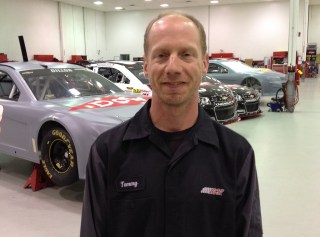 "I was pretty upset," Wallace told NBC Sports in a phone interview Friday. "Reading his texts, it pretty much scared me. So then I got a chance to pull it up and watch on video, and it was unreal. I don't know how to explain how I felt.
"You know there's a person's life in your hands. You have to remember that at all times. When you're working on (the seat), you've got to think about, 'What if you were sitting in this car? What if your family was sitting in this car?' You have to have that same type of mentality, and these guys are like family to us. You have to make sure that everything is right to the best of your ability."
It was at Daytona, where Dillon emerged with only a few bruises after taking one of the wildest rides in NASCAR history –from 200 mph on the pavement, to sailing through the air to a dead stop with a catch fence pole in an explosion of parts and pieces to a jarring collision in the pits with Brad Keselowski's Ford.
Among the first people Dillon thanked in interviews was his team, and in particular, Wallace, whom he greeted with a bear hug on returning to the Richard Childress Racing shop in Welcome, N.C.
"He come up to me with that big Austin Dillon smile and shook my hand and thanked me," Wallace said. "I knew he would. That's how he is."
"I told him good job for keeping everything together and safe," Dillon told NBC Sports. "Tommy is a hard worker and very concentrated on how the interior is. He asks a lot of questions about where I want things. It's nice to have a guy working like that for you.
"You want a guy who comes in on time every day, that takes pride in his job, and Tommy is definitely one of those guys who has always been very focused and meticulous."
A thorough and redundant system
If there were a one-word job requirement for the unheralded team members who help keep Sprint Cup drivers such as Dillon safe, "meticulous" might be it.
There are more than three dozen bolts inside the cockpit that are designed to hold the seat, leg braces, steering column, seat-belt mounts and other myriad equipment in place during crashes as violent as Dillon's. Each of the bolts, measuring 3/8ths of an inch (1/16th of an inch thicker than the NASCAR minimum as a precaution), is checked by a wrench at least four times from when the seat is mounted to when the driver climbs aboard.
The process begins with Wallace, who can spend up to a day and a half on installing each new seat (which is constructed out of carbon fiber for RCR's cars at Daytona and Talladega Superspeedway and aluminum at other tracks). Much of the time is consumed by custom-building and welding brackets to attach the seat to the car and affix the head rests and halo section.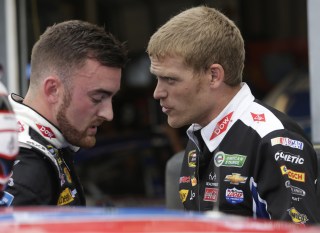 At the track, the handoff is made to Sisco, who makes any adjustments Dillon requests (such as changing his steering column or belts) and is the last person to ensure Dillon is comfortable before the command to fire engines.
A failsafe system involving torque sealing, which essentially leaves a paint mark on each bolt, ensures everything stays tight. If a mark is missing when the car arrives, Sisco knows a bolt might have moved.
"It's a very redundant system," Sisco said. "At the track, I just maintain the interior and make sure nothing serious is happening. Tommy's the one who welds it all together. That's his baby."
It's a job relished by Wallace, a 44-year-old from Richmond, Va., who has spent a lifetime in racing. After starting his career on the road as a tire changer, he came off the road and has spent the past 10 years at RCR, the past seven working on seats.
"This is what I love to do," he said. "I love working on race cars. I love working on interiors.
"When something bad happens. you have to question yourself do you really want to do it, because of the fact that if someone gets hurt, you feel like you're responsible for it. Nobody wants to think about that side of it. This is a dangerous sport. The drivers don't really get the credit they should. The amount of energy that is applied to them when they crash is just unreal – and how they can stand that, and how their bodies can hold up to that."
'Everything worked as it was supposed to'
Sisco, who is in his fifth year at RCR and first as an interior mechanic, also has contemplated the hazards of NASCAR. He worked on Joey Coulter's truck, which tore a hole in the Daytona catch fence in the 2012 season opener.
"I don't think you ever worry about the stuff breaking or not performing because you know how thorough we are, but you just don't know when it gets in the fence," said Sisco, a 28-year-old from Nashville, Tenn. "The fence did everything it was supposed to do, but man, it's a lot harder on the car than the wall is. The engine was gone. You hit a wall, the engine never comes out. It's just the fence is almost like a cheese grater when it starts cutting through stuff.
"The first thought is just what hit the fence first and what did the fence get to? Once he landed and you could see the driver's compartment still intact, there was no worry about (Dillon) coming free or anything like that."
There still was one heart-stopping element: the cord to Dillon's radio was disconnected after the crash, precluding the team from confirming Dillon's well-being until a visual inspection.
But the silver lining that emerged from those anxious moments? The radio was the only significant piece that broke free inside the cockpit during the brutal tumble down the frontstretch.
"That was probably the coolest part: Everything else was still where we bolted it before the race," Sisco said. "That was pretty neat. Everything worked as it was supposed to; nothing moved on him.
"I think proud is a good word, that we built something like that. All of us, even the chassis guys, they never get any credit for building that sturdy of a car. Where they put their adjustments, their brakes, all that stuff matters. It made me proud that everybody that worked there put that much effort into it and was able to come away from that violent of a hit. That was the first thing was, 'Man, we built a really nice car.'
The emotions were somewhat different for Wallace.
"I wouldn't say a sense of pride," he said. "It was more a sense of relief that (Dillon) was OK. The last thing you want to do is be the person who worked on something that someone got injured in, and I was very relieved he was OK.
"I'm a fairly religious guy, so I truly believe the Lord's hand was on him, and that's the only reason why."