SPARTA, Ky. – And as NASCAR embarks on an untested and uncertain era of purpose-built progress, a child shall lead them.
OK, Kyle Larson is 22, but his youthful verve, stock-car innocence and dirt-track savvy are among the myriad reasons making him a fine choice to start first at Kentucky Speedway in Saturday's Quaker State 400, which will plunge the Sprint Cup Series into a two-month wave of tailor-made rules changes.
It starts with a lower-downforce configuration (achieved through a vastly reduced spoiler) that is intended to de-emphasize aerodynamics and spice up the action at Kentucky, a 1.5-mile oval where lead changes have been in short supply since its Cup debut four years ago.
A "high-drag" approach will be applied with a megaspoiler at Indianapolis Motor Speedway (July 26) and Michigan International Speedway (Aug. 16), and then the low-downforce arrangement will return Sept. 6 with the Southern 500 at Darlington Raceway.
It represents a major philosophical overhaul for NASCAR from implementing full-season rules (albeit with some frequent tweaking) for decades to tailoring the cars to the tracks.
With rain greatly curtailing practice at Kentucky, it's virtually impossible to forecast what will happen Saturday night, and it would seem to tip the scales in favor of Larson, who mightily has struggled through a sophomore slump after a sublime rookie season hinted at the imminence of a breakthrough victory. The Chip Ganassi Racing driver also has a vast background in sprint cars, and that should help as the more ill-handling Cup cars are expected to slide around the weathered asphalt as if being raced on the slippery Midwestern clay.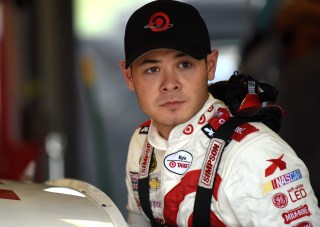 All of these points matter little to Larson, however, whose nonplussed answers are indicative of the Millennial ambivalence that NASCAR is trying to shatter in hooking a younger audience with a more action-packed brand of racing.
"We're on a pavement track, so it doesn't take me anywhere close to back to my dirt roots at all," Larson said. "So, stock cars are heavy. They're sluggish in a way. It doesn't really feel a whole lot different to me other than just a little bit looser in the corner, and you have to lift a little bit sooner and maybe use a little bit more brake. But other than that, it doesn't drive too differently."
The nonchalance has been indicative of his speed Friday.
While the radio channels of many veterans were filled with consternation while trying to solve the new package across two practices, Larson seemed the most adaptable. He paced both sessions in his No. 42 Chevrolet and turned a 182.537-mph lap in the first that was the quickest of the weekend.
If the Japanese-American driver (a graduate of the Drive For Diversity) were to capture his first victory in NASCAR's premier series while heralding the dawn of a fresh sheen for stock-car racing, that would make quite a storyline for stock-car racing.
Here are others to watch Saturday night:
—Break the bubbly? With his Friday win in the Xfinity Series, Brad Keselowski will enter Saturday's race as a clear-cut favorite. He has won two of the four Cup races at Kentucky, and he was second in both practices Friday (Rodney Childers, crew chief for Kevin Harvick, said the Team Penske Fords of Keselowski and Joey Logano had everyone covered).
This also could be viewed as a statement race for the 2012 series champion, whose cars mostly have lacked speed to contend for victories. He is locked into the Chase for the Sprint Cup thanks to a victory at Auto Club Speedway, but Keselowski needs his team to start rounding into title form.
"When you get in this car and win, that confidence, that momentum, you just feel it in your soul, you feel it in your body and that energy that you have it just really feels special," Keselowski said after the Xfinity win. "I'm very pumped about this win and feeling very much like we can carry it into (Saturday).  I honestly think my Cup car is just as good, so we're ready."
After needing several stitches in his right hand to close a wound sustained by breaking a bottle of champagne after last season's Kentucky win, Keselowski also is prepared to celebrate. A fan recently educated him on proper bottle-opening technique – with a sword. "I haven't quite got the guts up to open a bottle with a sword, but if I was going to try it this would be the weekend," he joked.
–Completing the resume: It's the last start at Kentucky for Jeff Gordon and thus the last chance for the four-time series champion to cap his illustrious career with an impressive achievement – winning at every track on the circuit. Of the 23 tracks in the series, Kentucky (which is holding only its fifth Sprint Cup race Saturday) is the only victory lane void for the Hendrick Motorsports driver. "It would mean a lot to accomplish that," he said. "I love doing things that are hard to do and set those kinds of stats. It wouldn't mean so much to me if I hadn't won on all the other ones.  It would just mean a lot to win it."
The odds are somewhat stacked against his 93rd career win, though: Gordon hasn't led a lap yet at Kentucky, and there also hasn't been a Chevrolet winner here yet in Cup.
—Waterworld: Saturday's forecast thankfully is dry, but wet conditions still could remain an unfortunate subplot to the racing at Kentucky, which was soaked this past week. Even when the rain stops, there have been interminable delays because of pesky "weepers" – water seeping through the cracks of the aged asphalt – and it apparently is happening while cars are at speed, too.
Jimmie Johnson speculated he hit a damp patch that caused his No. 48 Chevy to brush the wall in practice Friday, and Kyle Busch said the frontstretch developed many wet areas as Thursday's Camping World Truck Series race unfolded. Referring to a track's "character" is one of the great euphemisms in NASCAR driver vernacular, and Kentucky's surface, already maligned as the circuit's roughest, has endured a week of "character" development worthy of a Hollywood screenplay.
–Frontward focus: Since its inaugural event in 2011, there hasn't been a lead change in the last 10 laps of a Sprint Cup race at Kentucky. The lower-downforce rules are aimed at changing that, and lead changes might be the most important metric NASCAR monitors in evaluating whether the new direction is a success.
But because Goodyear didn't have time to build a tire to match the package (which will be the case at Darlington), many also have tried to manage expectations about the efficacy of the new rules package. If this race doesn't deliver drama, no one will be hitting panic buttons. However if the outcome is in doubt as much as Friday night's Xfinity duel between Erik Jones and Keselowski, there will be high-fives galore in the NASCAR tower.