A bad restart couldn't keep Brad Keselowski from continuing his Kentucky Speedway dominance.
Keselowski outran Erik Jones in a last-lap drag race to claim the win in the Kentucky 300 and his first Xfinity Series win of 2015. The Michigan-native now has three wins in the last five Xfinity races at Kentucky.
WATCH: Full replay of the Kentucky 300
The win came after Keselowski spun his tires on a restart with 30 laps remaining. Keselowski has the lead after taking two tires during pit stops.
"That was a hell of finish, wasn't it?" Keselowski told NBCSN. "I almost messed it up with a restart. I just got a launch and Kyle (Busch) was right behind me and he gave me a hit right as I was going and it just made me spin the tires and the 20 (Jones) took off."
It would take Keselowski 22 laps to reel Jones in. Those were the only 22 laps Jones led all night.
"I think we were pretty even," Keselowski said. "I was just kind of driving the crap out of it to keep up with him, him having the clean air
Lapped traffic came to Keselowski's rescue, slowing Jones down to allow Keselowski to get to his bumper with 10 laps remaining.
Then with eight laps left, the lapped car of David Starr impeded Jones just enough for Keselowski to overtake him on the frontstretch.
"I thought it might happen and went into the corner high just ready for something to happen," Keselowski said. "Opportunity struck and I was able to make the most of it."
Jones got back to Keselowski on the final lap, but was never able to make a move for the lead.
Keselowski started fourth and led 72 laps around Kentucky on his way to his first Xfinity win since taking the checkered in the fall Phoenix race last year. This was his fourth race in the No. 22 car in 2015.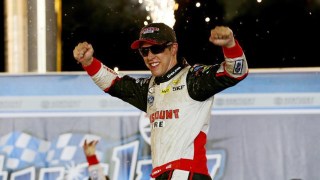 Keselowski was followed by Jones, Kyle Busch, Daniel Suarez and Elliott Sadler.
MORE: Xfinity points standings
How Brad Keselowski won: Keselowski can thank the lapped car of David Starr for slowing down Erik Jones on the frontstretch with eight laps to go. Jones went high, Keselowski went low and come out on the other side of Starr in the lead.
Who had a good day: Joe Gibbs Racing finished the night 2-3-4 with Jones, Busch and Suarez. Busch led a race-high 88 laps but was the only car in the top five that took four tires instead of two on the final pit stop. Busch was never able to get higher than third in the final segment.
Who had a bad day: Brian Scott's competitive chances ended during a caution on Lap 71 when he stayed on pit road to have a carburetor replaced. Scott finished two laps down in 19th … J.J. Yeley started on the pole after rain canceled qualifying but slowly fell back in the pack, finishing 18th, two laps down … John Wes Townley brought out two cautions for a spin on Lap 4 and hitting the Turn 2 wall with 38 laps remaining before finishing 32nd … Chris Buescher finished Friday still the points leader, but was mired in 15th for much of the race. Buescher had an extended stay on pit road with 38 laps remaining for a vibration and would finish 11th.
Notable: Daniel Suarez finished fourth for his second career top five. Suarez said Friday night was the first time his mother was able to watch him race in-person in the United States.
Quote of the night: "I know us (Joe Gibbs Racing) guys are scratching our heads right now wondering how the 22, being a single-car team, can beat us three finishing second, third and fourth tonight. " – Kyle Busch, who finished third after leading 88 laps.
What's next: Sta-Green 200 at New Hampshire Motor Speedway, July 18 at 4 p.m. ET on NBCSN