The list grows and each time a sickening feeling returns. Cars in the fence. Even a Truck.
And fans injured.
While drivers assume risk, fans don't and shouldn't.
Yet, Austin Dillon's crash into the catch fence Monday morning marked the third time since Feb. 2012 fans have been injured at Daytona International Speedway. More than 35 spectators have been hurt in those incidents.
At what point is change necessary to protect fans? At what point must changes be made to keep cars and trucks from flying into the fence like an out-of-control circus act? At what point should radical changes be considered, even if displeasing to spectators, to protect everyone?
Daytona's catch fence did its job Monday – keeping Dillon's car from tumbling into the stands. The car cocooned Dillon. Despite going from nearly 200 mph to zero almost instantly, Dillon walked away with only a bruised tailbone and bruised forearm – signs of how far NASCAR's safety initiatives have come.
What can't be ignored is another car tumbling into the fence. Even with Daytona moving fans back and keeping them away from the fence, this trend of vehicles crashing into the fence is troubling – and unacceptable.
"I hope all the fans and @austindillon3 are ok,'' AJ Allmendinger tweeted after the race. "I don't know how many cars we need to keep sending into the grandstands before we fix this.''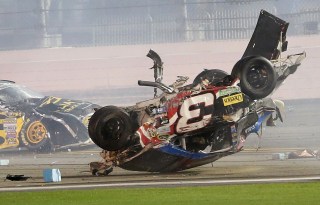 Former champion Kurt Busch also is frustrated with this form of roulette racing.
"I'm glad that we have night-time sessions for practice and qualifying (because) we get all day to think about how we're going to end up all wrecking at the end,'' he said.
"It's like a Kentucky Derby. It's like a Preakness. It's like a Belmont Stakes except there are 30 horse running down to the finish and the track is only wide for three at a time. Do the math.''
The math is scary. Consider:
Five fans were injured in Monday's crash with one treated and released from a local hospital.
In Feb. 2013, more than 30 fans were injured when Kyle Larson's car sailed into the catch fence during what is now an Xfinity Series race. Fourteen were transported to a hospital.
In Feb. 2012, Joey Coulter crashed into the fence in a Camping World Truck Series race. Two fans were injured. One was treated at a local hospital.
In each of those races, the crash happened either on the race's last lap or just after the finish – as happened Monday morning. All three crashes came on a green-white-checkered finish.
There's no doubt that a two-lap restart for the win causes fans to rise in the stands or edge closer to the TV at home, but these accidents are proof that NASCAR should eliminate green-white-checkered finishes at restrictor-plate races.
If a crash happens just before the scheduled end, the race ends under caution. Yes, it's not the most appealing way to finish a race but it's better than medics rushing to fans bruised and bloodied by flying shrapnel.
While there's been a slight uptick in attendance at some of plate races, the possibility of a finish under caution shouldn't hurt the crowds, which have not returned to their peak from years ago.
Prohibiting a green-white-checkered finish for plate races won't eliminate the possibility cars or trucks crash into the fence and potentially injure fans. Until NASCAR finds a way to keep those vehicles grounded, the responsible action is to limit the number of times these vehicles can soar out of control and endanger mothers, fathers, brothers sisters, aunts, uncles and others.
When it gets to a final restart, the odds are great an accident is likely. This year's Daytona 500 went to a two-lap shootout after a two-car crash. What happened next? Instead of the race ending under caution, fans saw eight cars crash. No one was injured that time.
It wasn't surprising that there was a crash at the end of Monday's race.
"When we came off Turn 4, I assumed that we were all going to wreck because there was a pretty good draft especially from the guys that were four or five rows back,'' Jamie McMurray said.
What happened in race winner Dale Earnhardt's rearview mirror was so frightening that he was near tears until he was told Dillon was OK.
"I haven't even seen the wreck, and I don't even know if I want to see it,'' Earnhardt said.
No one should have to see what happened Monday again.