DAYTONA BEACH, Fla. – A green-white-checkered finish in a restrictor-plate race typically leaves at least one band of Sprint Cup drivers seeing red.
Austin Dillon's airborne wreck to end the rain-delayed Coke Zero 400 early Monday morning at Daytona International Speedway was no exception.
"I'm glad that we have night-time sessions for practice and qualifying (because) we get all day to think about how we're going to end up all wrecking at the end,'' Kurt Busch sarcastically told NASCAR Talk after the race. "It's like a Kentucky Derby. It's like a Preakness. It's like a Belmont Stakes except there are 30 horses running down to the finish and the track is only wide for three at a time. Do the math.''
The numbers were ugly from the latest episode of last-lap mayhem set off by NACSAR's policy of making three attempts to finish every race under green. The pileup as the checkered flag waved involved at least 10 cars, and the impact of Dillon's No. 3 Chevrolet triggered a debris shower of countless flying parts that injured at least five fans (including one who was treated and released two hours later at nearby Halifax Health Medical Center; the other were attended to on site).
Dillon emerged unscathed aside from a bruised tailbone and forearm, but that didn't quell the anger of Richard Childress Racing teammate Ryan Newman.
"NASCAR got what they wanted," Newman told USA TODAY Sports. "That's the end of it. Cars getting airborne, unsafe drivers, same old stuff. They just don't listen."
Newman has been railing against plate racing at Daytona and Talladega Superspeedway for years, earning a $50,000 fine five years ago after suggesting the Talladega race should be run as an exhibition and rebranded as event marketing.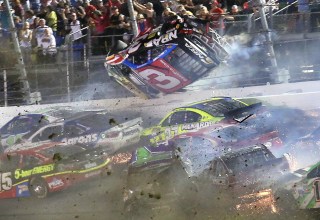 Asked whether Dillon's wreck might effect change, Newman referenced the death of RCR driver Dale Earnhardt on the last lap of the 2001 Daytona 500.
"They've had several events since then," Newman said. "They just don't pay attention to safety. Simple as that."
Safety already had been a hot-button issue at Daytona last weekend, which marked the return of Kyle Busch to the track where he suffered injuries in February that sidelined him for 11 races after hitting a wall unprotected by a SAFER barrier.
Daytona made safety enhancements over the past five months, erecting more SAFER barriers and paving more than 200,000 square feet of grass. Busch wasn't satisfied, though, calling on Daytona and all tracks to eliminate all infield grass adjacent to racing surfaces.
Dillon's crash seemed to shift the safety focus away from infrastructure to the style of racing with restrictor plates, which choke down the airflow to the engine and keeps horsepower-sapped cars bunched together in hazardous packs.
"There isn't much good to say about what happened here tonight," said reigning Daytona 500 winner Joey Logano, who was caught in multiple crashes Monday. "It is a product of the racing here.
"I just heard (Dillon) up in the catch fence, and motors were flying out of cars. That isn't the first time that has happened here and it is just dumb that we allow it to happen more than once."
The final restrictor-plate race of the season will take place Oct. 25 at Talladega.