Dale Earnhardt Jr. waited out a 3 ½ hour rain delay and avoided being part of four big wrecks at Daytona International Speedway to win Sunday's Coke Zero 400, which ended with a terrifying wreck involving Austin Dillon.
Dillon's No. 3 Chevrolet ended up on its roof after going airborne and slamming into the catchfence, ripping down a large section of the barrier. It wasn't immediately clear if any fans were injured.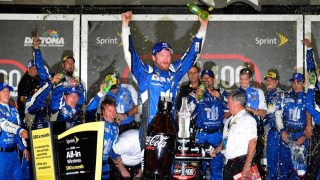 After being extricated from the mangled car, Dillon flipped his hands at the crowd, took off his helmet and HANS and walked to an ambulance. He was treated and released from the care center with a bruised tailbone and forearm.
WATCH: Full replay of Coke Zero 400
"That scared the hell out of me, to be honest," Earnhardt said. "That was terrifying to watch. … You just don't want to see that happen."
Earnhardt, who led a race-high 96 laps, took the lead for the final time on Lap 117 and held on for the rest of the race, which was extended by one lap past the scheduled 160 laps due to a green-white-checkered finish.
"I had a lot of fun tonight," Earnhardt said of his 10th career restrictor plate race win. "Our car was very fast, I had to block a lot and you've got to run real, real hard to win here."
It was Earnhardt's second win of the season and fourth career triumph at Daytona.
Jimmie Johnson finished second, followed by Denny Hamlin, Kevin Harvick and Kurt Busch. Jeff Gordon finished sixth in his final race at Daytona, followed by Austin Dillon, Ryan Newman, Trevor Bayne and Clint Bowyer.
How Earnhardt won: Plain and simple, Earnhardt had the best car of the field. He started from the pole and dominated 96 of the 161 laps, continually finding the right lines to keep him in front, as well as keep his challengers behind. One other key to the win was Earnhardt's outstanding work on restarts, with virtually no one able to challenge him.
Who else had a good night: If Earnhardt would not have won, Jimmie Johnson likely would have. Johnson led 35 laps, second-most in the race. … Kevin Harvick didn't lead any laps but his fourth-place finish allowed him to open up a 63-point lead in the Sprint Cup points over Earnhardt. … Jeff Gordon finished sixth in his final Sprint Cup race at Daytona. … Despite being involved in a one-car wreck on Lap 17, Kyle Busch returned to the race after repairs were made and finished 17th. Busch remains in 37th place in the standings, 128 points out of 30th place with nine races remaining to make the Chase for the Sprint Cup (he was 136 points out of 30th coming into the race). … Tony Stewart tied for his third-best finish of the season (14th).
Who had a bad night? Martin Truex Jr. suffered his second consecutive poor outing, finishing 38th after ending up 42nd last Sunday at Sonoma. He also fell from second to fifth in the Sprint Cup points, now 87 points behind series-leading Harvick. … Carl Edwards also suffered his second straight poor showing. He was 40th at Sonoma and 41st Sunday, his day ending following a five-car wreck on Lap 86. … Danica Patrick was also involved in a pair of wrecks, including a single-car wreck on Lap 127. Patrick finished 35th.
Notable: Chad Knaus made a classy announcement to fans over the No. 48 team radio as cars pulled onto the track after the 3 ½ hour rain delay: "I'd like to say thanks to all these amazing fans that hung out with us tonight. Good to see you here tonight. It's pretty darn full. Looks good. You guys are in for a good show tonight." … Jimmie Johnson led at the halfway mark. … Tony Stewart tried to insert some levity into the long night. With 28 laps left, he came over the team radio and quipped, "It's shaping up to be a Waffle House night." … NASCAR did not announce how many cars were involved in the last-lap crash, but NBC statisticians counted 24 of the top 27 finishing cars.
Quote of the night: "I'm glad after going through this experience, I have only one more restrictor plate race left (Talladega, this fall)." – Jeff Gordon after the last-lap mayhem at Daytona.
What's next: It'll be a short week for the Sprint Cup Series, as the next race is Saturday's Quaker State 400 at Kentucky Speedway.
Follow @JerryBonkowski