DAYTONA BEACH, Fla. – Austin Dillon walked without a limp. He smiled. His hands didn't shake. His voice was strong. If you hadn't seen the vicious crash, his car flying into the catchfence, you wouldn't have known that only a few minutes earlier he emerged from a carcass of a car after a crash at the end of Monday morning's NASCAR Sprint Cup race at Daytona International Speedway.
Dillon walked from the crash and said that he had only a bruised tailbone and a bruise on his forearm. Four fans were treated at the track and one was transported to a local hospital and listed in stable condition.
"Ice up and go get ready for Kentucky,'' Dillon said of what was next for him, as he looked toward next weekend's race at Kentucky Speedway.
WATCH: Full replay of Coke Zero 400
He described the accident in a clinical sense – as if he was describing what happened to someone else not him.
"It's just part of racing,'' said Dillon, credited with finishing seventh. "Everybody is pushing for all they can. Tight pack. I was pushing (Jeff Gordon). People were pushing. It was a wad at the end.''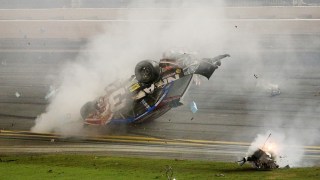 Dillon isn't quite sure how he got turned but that sent him on a his wild ride. His car got airborne and flew into the catch fence and back on the track upside down. Paul Menard said he thought Dillon hit the roof of his car on the wild flight.
Once the car landed upside down, Dillon said he began to relax thinking the crash was over when Brad Keselowski's car broadsided him.
"The belts are loosening each hit, so the hits are getting more and more violent," Dillon said. "I held on to the steering wheel as hard as I could. I'm sure I'm going to find more bumps and bruises by the end of the week but right now I feel all right."
Dillon said Keselowski told him in the infield care center that he tried to slow but thought he hit oil because he had no control over the car.
Dillon said that almost immediately after the crash, a member of Casey Mears' crew was at his car. Dillon wanted to get out of his car quickly to let his parents, grandparents and fans know he was OK.
After being told on the team's radio that Dillon, his grandson was not injured, car owner Richard Childress said: "Wild-ass ride.''
Dillon said changes are needed.
"I think our speeds are too high," he said. "I really do. I think everybody can get good racing with lower speeds. We can work on that and then figure out a way to keep cars on the ground. That's the next thing."