In a season where fans have dissected the racing, debated rule changes and defended or denounced the Confederate flag at NASCAR events, Kyle Busch has created another topic to discuss:
Should a driver who misses nearly a third of the season be eligible for the Sprint Cup championship?
Busch's victory Sunday at Sonoma Raceway moved him closer toward that goal. He needs only to be in the top 30 in points after the Sept. 12 Richmond race to be Chase eligible.
Based on projections, Busch must average a 14th-place finish in the next 10 races to qualify for the Chase.
"This is extremely hard to average what we've got to average,'' car owner Joe Gibbs said Sunday.
Maybe not.
Busch has bettered that average three of the past four years in the races that compose the final 10 before the Chase.
Although history does not guarantee a repeat performance this summer, there's the chance that Busch could make the Chase despite missing more than 40 percent of the races that set the championship field.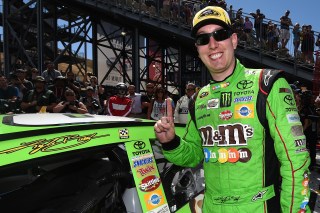 Should he win the title, some fans will question NASCAR's system. If a driver can become champion without competing in every event, what is the value of the 26 races used to set the Chase field?
Busch never got the opportunity to run every race this season after his car slammed into an unprotected wall in February at Daytona International Speedway. Busch broke his right leg and left foot in the accident and missed the first 11 Sprint Cup points races.
For a sport that talks so much about safety, Busch's Daytona crash was a failure. NASCAR and track officials found a way to cover the concrete wall inside Turn 1 with tire barriers the day after Busch's crash. Why it wasn't done beforehand is troubling.
"What happened … should not have happened,'' Steve O'Donnell, NASCAR executive vice president and chief racing development officer, said a few hours after Busch's crash. "That's on us.''
He's right. That's why NASCAR waived the requirement for Busch that a driver must compete in every race to be in the Chase. Still, he needed to win a race and be in the top 30 in points.
One can argue that there's no way to determine if Busch would have emerged unscathed had his car hit a tire barrier or a SAFER barrier at Daytona.
Even if injuries forced Busch to miss a month, it seems likely he would have easily met the top 30 rule – older brother Kurt is 10th in the points after missing the season's first three races because of suspension.
Critics also can note that Kyle Busch was injured in an Xfinity race and shouldn't have received a NASCAR waiver lifting the requirement that a Chase driver compete in every event.
If he's so valuable to his Sprint Cup team, why was he racing in that series? It's an easy question to ask, but some sponsors in the Xfinity Series are more interested in being affiliated with a Cup driver without paying Cup sponsorship fees.
Without Cup drivers in those Xfinity programs, it would likely limit how many teams participate. So drivers and teams take that gamble, knowing a Cup driver in the Xfinity Series can get hurt.
While there are many layers to the question if Busch should have a chance to contend for the championship, another poor finish in the coming 10 races could make this debate moot.
Even if he makes the Chase, he and his team have to advance through three rounds before racing for the championship at Homestead-Miami Speedway in about five months.
Busch admits the next 10 races will be challenging.
"You've certainly got to play it out all the way through,'' he said. "That's one of the things that maybe I haven't been so good at over the years. You've got to have that focus for not just one week but for a long time, and 10 weeks is a long time, so we've just got to do our job, both (crew chief Adam Stevens) and I. We can't screw up.''
Busch says his task is not insurmountable.
"This team is good enough to be (Chase eligible), and I should be good enough to be that way,'' he said.
If Busch makes the Chase, is that a sign the championship format is in disrepair or an example of a remarkable comeback?
If he wins the championship, will it taint the season or add to Busch's legacy?
Each champion has their own trials. No driver in the sport's history has ever faced – or had to face – a challenge quite like Busch's.
If he wins the title, he'll be a worthy champ and deserve to have his name alongside the sport's other champions despite not starting every race this season.