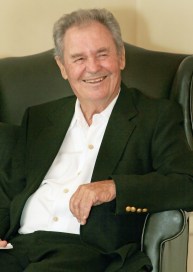 A grandfatherly demeanor, a measured and smooth Southern drawl, and an on-air trustworthiness endeared Barney Hall to millions of NASCAR fans for more than five decades.
One of the sport's most respected and beloved personalities, Hall –  more specifically, his voice – was a welcome guest in homes, businesses and cars everywhere, most notably from 1979 until last July as the lead anchor for Motor Racing Network's radio broadcasts of the sport.
That voice is now, for the most part, off the air. Hall retired following last July's Coke Zero 400 at Daytona International Speedway, after being diagnosed with early onset Parkinson's Disease.
The news of Hall's retirement caught the NASCAR world by surprise, including Dale Earnhardt Jr., who tweeted when he heard the news, "Barney Hall is a legend. Grew up listening to him. Forever grateful."
Hall remained a consummate professional in his final farewell broadcast.
"I tried to bring back a lot of memories," he said. "To walk away from it after 54 years was probably the hardest thing I've ever done in my life.
"I miss the people really a bunch, especially the people I worked with. I don't miss the travel or that sort of thing that much, but I do miss the people and the things we did together."
Longtime NASCAR fans haven't forgotten Hall, who celebrates his 83rd birthday today. NASCAR Talk caught up with him recently and took a walk down his own personal memory lane.
* * * * * * * * * * * * * * * * * * * * * * * * * * * * * * * * * * * * * * * * * * * * * * * *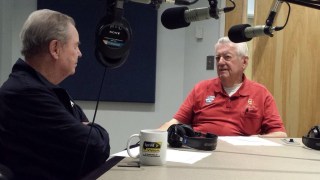 MRN bills itself as "the Voice of NASCAR." And for 35 years, Hall was its lead announcer,
Until TV coverage became widespread, Hall was NASCAR's verbal Picasso, with his words painting pictures of the sights, sounds and scenes of the sport, as well as its triumphs, defeats and tragedies.
Hall was in the booth when the fight between Donnie and Bobby Allison and Cale Yarborough erupted after the 1979 Daytona 500.
He met, interviewed and bantered on air with Presidents Ronald Reagan and George W. Bush.
Hall was there when Dale Earnhardt finally broke a 20-year jinx when he won the 1998 Daytona 500.
Hall also described the wreck that ultimately took Earnhardt's life.
Even though Parkinson's Disease occasionally affects his memory, Hall still recalls countless stories – from funny to poignant to sad – that include NASCAR Hall of Famers Richard Petty, David Pearson and Earnhardt.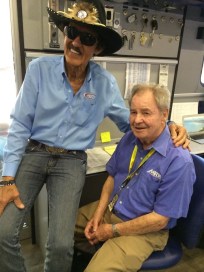 It was Petty who offered advice when Hall announced his retirement.
"Richard told me two of the hardest things he ever did was, one, climb the mountain to get to the top," Hall said. "And the other part was the hardest part of (his) whole career, according to Richard, was coming down the mountain on the other side.
"Going up, it's kind of slow and you lead the thing. All of a sudden, you turn around and you've been doing this for 50 years plus. It takes some getting used to."
And as for Pearson, Hall said he never played favorites with drivers, but his affinity and friendship with the "Silver Fox" has lasted more than half a century.
"We traveled together all the time and David is a pilot and I was, too, so we flew to all the races together," Hall said. "We could talk about anything in the world. David was something special. He was one of the best. If not the best, certainly one of the top three of all-time in NASCAR, no question about that.
"One thing people probably don't know is he helped a lot of drivers get a permanent ride at that time. He was a very unassuming guy. He'd help a lot of them. David was the man and he helped out for a long time."
* * * * * * * * * * * * * * * * * * * * * * * * * * * * * * * * * * * * * * * * * * * * * * * * 
No driver had as much an impact upon Hall than Earnhardt. Hall fondly remembers when Earnhardt won the 1998 Daytona 500.
"That would certainly be one of the two or three (race calls) that you look back on as being one that you'll be talking about for the rest of your life," Hall said. "When he did finally win and went down pit road, I think everybody that was at the racetrack got on their feet and applauded him.
"It was amazing to watch the whole pit road, from Turn 4 to Turn 1, everybody out on pit road shaking hands, reaching in the window or whatever. You could see every pit crew member and NASCAR official down there. You looked down and said to yourself, 'This is going to be a moment in time.'"
The Intimidator also figured in the darkest call of Hall's career, the day Earnhardt lost his life on the final lap of the 2001 Daytona 500.
"I didn't know at the time, for the first 10 minutes or so after that accident happened, that it was as serious as it was," Hall said. "Because to look at it, even today, most of the guys that have been racing for any length of time will tell you that the accident he had … didn't look that bad. I thought for sure that he'd climb out of the car and walk away.
"I usually had real close contact with one of the NASCAR safety officials up in the tower. We always had a kind of a deal between us that if it was a bad accident, he'd give me a thumbs up (if the driver was OK). But the thumbs up never came to let us know that it was a pretty serious accident.
"When Kenny Schrader jumped out of his car and went over to Dale's car and then came back, when I looked over to the safety guy, you could see it eye to eye that this was not going to be good.
"It took about two weeks for that to soak in, that we've lost him and he's not here anymore. When I announced my retirement, the one thing I would have wanted was to have him there because he was a close, personal friend. He could cry on my shoulder, and I could cry on his shoulder.
"It still hurts to talk about that thing."
* * * * * * * * * * * * * * * * * * * * * * * * * * * * * * * * * * * * * * * * * * * * * * * * 
Hall also experienced some rather humorous incidents in his career.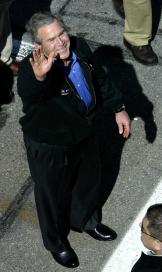 Right near the top was the time he interviewed President George W. Bush before the 2004 Daytona 500.
"President Bush was scheduled to come up into the booth and talk with Joe Moore, my co-anchor, and me about 20 minutes before race time, visit with us and then go back downstairs – but it didn't happen the way it was supposed to," Hall said. "Once he got a hold of the mic, he kept on talking.
"He came in and congratulated us for being with MRN and the years we've had and all that. We put a headset on him to talk a little bit. He was saying how great it was to be in Daytona and things like that. All of a sudden, I looked up at the booth clock, it was getting close to just about a minute before they were to start the engines on the track. I realized that Mr. Bush wasn't going to quit talking and go back downstairs. I gave him the cue to (stop) three or four times, but he just stayed there with the headset on.
"Then, when he left the booth, he still had the headset on and the mic was still live. We went to a commercial break, or we thought we did, and one of our guys in one of the turns asked me what was it like talking to the president. One of the other announcers said, 'He ain't no Barney Hall.'
"Mr. Bush still had the headset on, pushed the microphone button and said, 'Boy, you've got that right.' It was a wild moment. It ain't every day that the president comes into the booth and puts a hammerlock on you when he greeted you, but he enjoyed the heck out of it. He said it was about as much fun as he's ever had, and he was serious."
* * * * * * * * * * * * * * * * * * * * * * * * * * * * * * * * * * * * * * * * * * * * * * * * 
These days, Hall still lives in his hometown of Elkin, N.C., a town of about 4,000 residents located 75 miles north of Charlotte. It's the same place that has kept him grounded his whole life.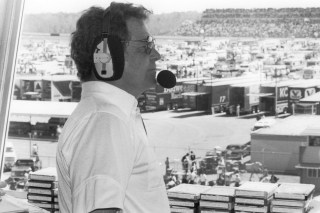 "I stay busy just doing a little cleaning up around the house, catching up on a few things like that," he said. "Other than that, right now I'm not doing a whole lot. I still do a couple things at MRN like a podcast."
Then, he adds with a laugh, "I'm still alive."
He also laughs when asked if he knows how many races he called in his career.
"Lord, I wouldn't have any idea," Hall said. "I'm not sure I'd want to know such a thing."
In 2013, the NASCAR Hall of Fame established the Squier-Hall Award for NASCAR Media Excellence, which recognizes significant contributions made to the sport by media members. Hall and veteran TV announcer Ken Squier were the inaugural winners of the award named in their honor.
As he reflects back over more than half a century of broadcasting, Hall admits it's been bittersweet in the few races he's attended as a spectator since retiring.
"It's not the same, you feel like you're out of place sometimes," he said. "You feel like when they drop that green flag that you should be somewhere, ready to get to work.
"When you see the green flag and the race gets underway and you're standing on pit road, it puts a pretty tough feeling in the pit of your stomach to know that I used to do this almost every weekend."
Then, he added wistfully, "But those days are over."
Follow @JerryBonkowski