A NASCAR executive hinted that next month's race at Kentucky Speedway might not be the only Sprint Cup event with a different aerodynamic package this season.
Steve O'Donnell, NASCAR executive vice president and chief racing development officer, said Monday on "The Morning Drive'' on SiriusXM NASCAR Radio that fans could hear "fairly soon'' about another track with a rules package created specifically for its race.
NASCAR announced last week that it would have a special aerodynamic package for the July 11 race at Kentucky Speedway. The adjustments – intended to improve passing and increase the number of lead changes – include cutting the spoiler to 3.5 inches, reducing the radiator pan to 25 inches and limiting the overhang on the splitter to 1.75 inches.
"We had a lot of discussions with really everyone in the industry in looking at where we may or may not want to head for 2016,'' O'Donnell said on SiriusXM NASCAR Radio. "What it kept coming back to … if we could really dial in some packages around certain tracks.''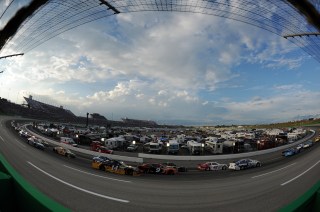 O'Donnell stressed more work remains.
"This isn't just Kentucky and then we go away,'' he told SiriusXM NASCAR Radio. "I think we want to look at this possibly even again this year. Not everyone agrees in terms of certain packages or certain directions. It's our job, ultimately, to make the call on what we're going to run at Kentucky, but I think it will give us some really good feedback, especially from the fans, as we go forward and look at what, if any, tweaks we can make prior to the Chase for 2016.''
Asked on SiriusXM NASCAR Radio what might be another race this season where NASCAR could try a different rules package, O'Donnell said: "I think it's still a little early, but it is certainly being discussed with the race teams and the drivers and something you could hear about fairly soon.''
Michigan International Speedway could be that track for its Aug. 16 race.
Ten drivers took part in a NASCAR test last August at Michigan International Speedway. At the end of the day, NASCAR tried a package suggested by drivers that included about 30 percent less downforce.
Denny Hamlin raved last year about what he saw with that package.
"It was like the most amazing nine-car race for the first couple of laps,'' Hamlin told Motor Racing Network. "It was crazy to see them out there with their hands full. We have star drivers in this sport for a reason because they're the best drivers. They're with great cars and great car owners, but I felt like we were heading in a direction where you just put anybody up front at the end of these races and any car, mediocre to a decent car, they were going to win the race.
"Now I believe your star drivers are going to show back up again with this package.''