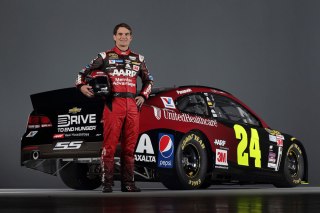 It's never too late for a new paint job.
Jeff Gordon, who has just 21 races left in his Sprint Cup career, will have a new paint scheme for six of those races Hendrick Motorsports announced on Monday.
Beginning this weekend at Sonoma Raceway, Gordon will be sponsored by AARP's Member Advantages.
After Sonoma, Gordon's No. 24 Chevrolet will have scheme at these races: Kentucky Speedway (July 11), New Hampshire Motor Speedway (July 19), Pocono Raceway (Aug. 2), Dover International Speedway (Oct. 4) and Martinsville Speedway (Nov. 1).
"I've been fortunate to meet many AARP members over the last few years, and I understand why they're so loyal," Gordon said in a release. "The benefits of membership are truly valuable, and I know people enjoy being affiliated with an organization that gives back the way AARP does through Drive to End Hunger and other initiatives."
That's now six fewer races fans have of the possibility of seeing Gordon once again race in the "Rainbow Warriors" paint scheme he made famous in the 1990s.
"That's definitely been a question that's going around a lot lately and I wish I had an answer for you," Gordon said at Michigan International Speedway during the announcement that Phoenix International Raceway would be renamed after him for is fall race. "It's being talked about a lot within Hendrick Motorsports and ours sponsors. I don't think anything's been confirmed on that yet."