Ty Dillon led a Richard Childress Racing onslaught in Friday's first of two NASCAR Xfinity Series practices at Chicagoland Speedway.
All four RCR drivers were in the top nine, including three in the top-five.
Dillon was the only driver over 177 mph at the 1.5-mile track, recording a field-best speed of 177.392 mph.
Ryan Blaney was second-fastest (176.875 mph), followed by RCR driver Austin Dillon (176.702), Chris Buescher and RCR driver Brian Scott (175.313).
JJ Yeley was sixth (174.984), followed by Drew Herring (174.582), Daniel Suarez (174.514), RCR driver Brendan Gaughan (174.020) and Darrell Wallace Jr. was 10th-fastest (173.958).
Herring was behind the wheel to set up the No. 54 Toyota Camry for Erik Jones, who will compete in Friday night's Camping World Truck Series race at Iowa Speedway, and then head to Chicagoland Speedway for Saturday night's Xfinity Series race.
Ross Kenseth, son of Sprint Car veteran and 2003 champ Matt Kenseth, is making his Xfinity Series debut this weekend. Kenseth was 13th fastest in practice (173.589 mph).
Kenseth turned the fourth-most laps of any driver (38). But there was no lap more eventful than the 27th lap when Kenseth came off Turn 4 and went around.
To his credit, the younger Kenseth did not hit either the outside or inside retaining walls or, more importantly, didn't tangle with another car. He flattened two of the four tires on his Toyota Camry in that spin, but still managed to make it to the garage relatively unscathed.
The second Xfinity Series practice today will go from 7 to 7:55 pm ET at CLS.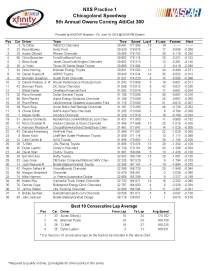 Follow @JerryBonkowski