In the middle of the season, in a race to make the Chase, in a points event of all things, NASCAR is changing the game.
New rules, new race, maybe even a new winner who could alter who competes for the championship and who doesn't.
NASCAR could have – should have one can argue – tried these changes in last month's Sprint All-Star Race where there weren't any points on the line. Instead, NASCAR will implement new rules for the July 11 race at Kentucky Speedway (which can be seen on NBCSN).
For all the fuss by the fan base and worries about how this might impact their driver, NASCAR made the right decision to experiment.
Admittedly, it's hard to argue that a season with 10 different winners in the first 15 races is one that needs changing, but ask yourself what have been this year's most memorable moments on the track? Can you come up with more than two or three quickly? Can you come up with even that many?
Great side-by-side racing produces dramatic moments that leave fans buzzing. Yet, with cars running nearly identical speeds and aerodynamics playing a larger role, it's hard for drivers to run side-by-side to create that drama and contact that comes with it.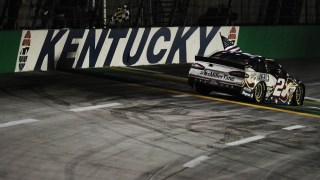 NASCAR more than any other sport needs those duels. Not just one or two but many.
But NASCAR wasn't getting them. Lead changes are down in 12 of the first 15 races this season compared to races at the same tracks a year ago. Only twice this season has the winning pass come with less than 10 laps left.
The changes at Kentucky – smaller spoiler, smaller radiator pan and a splitter with less overhang – will reduce downforce on the cars. The goal is to make drivers let off the gas in the corners to create more passing. And those tight battles fans crave.
Appeasing fans is critical because NASCAR faces a challenge unlike some other professional sports. Most people become a basketball, football or baseball fan because of a team in or near their city. Those fans were around it at an early age, likely even played one or all of those sports.
All of NASCAR's major Sprint Cup teams are based in Charlotte, N.C. – other than Furniture Row Racing, which is in Denver, Colo. When NASCAR comes to a venue, it's making either its only appearance or one of just two appearances a year. Compare that to the local NFL team that has eight home games or the NBA team with its 41 home games or the Major League Baseball team with its 81 home games.
NASCAR swoops in like the circus, then is gone just as quickly. While in town, the show needs to be outstanding. One can say that the racing in the middle of the pack is good. That's nice but most people are focused on the front. They want to see drivers dodge and parry for the lead not 20th.
NASCAR understands that the racing can be better. Officials know that now is the time to act instead of waiting eight months for the start of a new season to make changes. If the tweaks at Kentucky work, maybe the rules will change for other races, maybe even some Chase races.
Kentucky is a good place to try this. There hasn't been a pass for the lead in the last 10 laps in any of the previous four Cup races there. The track's four Cup races average 15 lead changes a race but saw only 12 last year and 11 the year before.
Maybe the rule changes can reverse those trends.
While NASCAR will examine what takes place that weekend, Steve O'Donnell, NASCAR's chief racing development officer, knows the true gauge on the changes will come elsewhere.
"I think ultimately,'' he said, "that's up to the fans.''
If the rules package at Kentucky doesn't win fan support, NASCAR should be willing to try again this season. The sport needs to make the racing better as soon as possible.