After four red flag race stoppages due to rain, Kurt Busch ultimately was in the right place at the right time, being awarded a rain-shortened victory in Sunday's Quicken Loans 400 at Michigan International Speedway.
Busch, who took over the lead on Lap 133, remained in the lead five laps later when the race was stopped for the fourth and final time after 138 laps of the scheduled 200-lap event on the two-mile superspeedway. It is Busch's second victory of the season (won at Richmond in April), his third-career win at MIS and also with Stewart-Haas Racing, his 27th career Sprint Cup win.
Only 100 laps were run under green flag conditions. Realizing that the latest rain episode might be lengthy, not to mention track drying, NASCAR officials called it a race just after 6 pm ET.
"Tony Gibson led these guys through a back-up car, the pit crew was there giving it its best," Busch told Fox Sports 1. "It's an unbelievable feeling to know what we went through, paced ourselves and found the lead towards the latter part of the race and then the rain came in."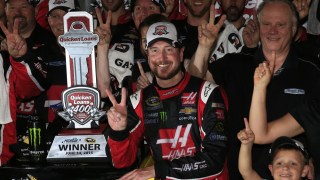 Dale Earnhardt Jr. finished second, followed by Martin Truex Jr., Matt Kenseth and Joey Logano.
MORE: Final results, stats of Quicken Loans 400
MORE: Sprint Cup points standings after Sunday's Quicken Loans 400 at Michigan
How Kurt Busch won the race: Simple, veteran crew chief Tony Gibson was Busch's ace in the hole. Gibson kept an eye on the approaching weather, called for a pit stop early enough that would allow Busch to get to the front of the pack, and then the team hung on for the win. It was a textbook example of how to win a rain-shortened race.
Who else had a good race: Had the race-deciding rain not fallen, Dale Earnhardt Jr. had a good chance of catching Kurt Busch. But Mother Nature intervened and Earnhardt finished second. … Even though he didn't lead a lap, Pocono winner Martin Truex Jr. continued his strong season's run, finishing third. Truex becomes the first racer to score 14 top-10 finishes in the first 15 races since Richard Petty did so to start the 1969 season, 46 years ago. … Trevor Bayne finished a season-best ninth. His previous best finish in his first full season in the Sprint Cup Series was 18th at both Martinsville and Texas. It was also only the fourth top-10 in Bayne's 72 career Sprint Cup starts.
Who had a bad race: Kevin Harvick, who had tied a NASCAR record with 10 top-2 finishes in his first 14 races last week at Pocono and led the most laps in Sunday's race (63), suffered perhaps the hardest luck of the event. He was forced to pit for a second time when a valve stem failed, leading to a flat tire. As a result, Harvick fell from a 4.6-second lead to 36th position, two laps down. He rallied slightly to finish 29th, but took a huge hit in the points standings. He still leads the series, but went from a 39-point edge to just 15 points over 2nd-ranked Martin Truex Jr. … Kyle Busch lost control and wrecked on Lap 53, suffering heavy damage to the right front of his car. While he was able to return to the race after repairs were made, he still finished 43rd, a big blow to his hopes of making the Chase (has to win a race and finish the first 26 races in 30th place or higher). For what it's worth, Busch remains 39th in the standings, but is now 173 points out of 30th place (Justin Allgaier).
Notables: How can you not feel bad for Kyle Larson? He was in the lead from Laps 128-132, but was forced to pit for fuel and tires. Had he only had enough gas and rubber for six more laps, we likely would be talking about Larson earning his first career Sprint Cup race. … How rare was the four red flag race stoppages due to rain? NASCAR statisticians are still trying to find another race that has been stopped that many times in the sport's history.
Quote of the day: "It's a downpour. It was raining when we came to the green. They can see the freakin' sky, you know what I mean?" – Kevin Harvick, shortly after Kyle Busch wrecked on Lap 53 in a solo crash, one lap after the restart on Lap 52.
What's next: The Sprit Cup Series enjoys next weekend off. There will be an Xfinity Series race at Chicagoland Speedway on Saturday, June 20, and a Camping World Truck Series race at Iowa Speedway on Friday, June 19. The Cup schedule resumes in two weeks at Sonoma Raceway, north of San Francisco.
Follow @JerryBonkowski