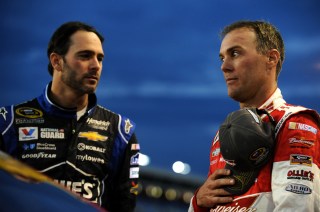 When Jimmie Johnson has taken the checkered flag lately in the Sprint Cup Series, there is one driver who has earned the right to feel a mite perturbed: Kevin Harvick.
In Johnson's last six victories in NASCAR's premier series dating to last June at Michigan International Speedway, Harvick has been the runner-up every time.
Johnson led the final 23 laps in Sunday's FedEx 400 at Dover International Speedway, seizing the lead from Harvick on a Lap 384 restart and fending off his No. 4 Chevrolet on two final restarts.
It was the fourth time in the past year that Harvick had led more laps than Johnson but finished second to the six-time series champion. At Dover, it was a broken track bar that cost him, negating his speed on restarts. Harvick said it took about 25 laps of green to overcome the problem each time.
"If we weren't in the front, then we struggled to just maintain what we had," said Harvick, who led 91 laps in pursuit of his first win at the 1-mile oval. "When you look at Dover, it's been a good racetrack for us. We've led laps and just haven't quite finished it yet but (still) a good, solid day."
Johnson actually credited Harvick with helping secure his 74th career win by delivering a shot on the last restart that propelled his No. 48 Chevy past teammate Kasey Kahne, who was on the inside of the first row.
"I went across the start-finish (line) much faster than I thought I was going to," Johnson said. "It worked great because it got me past (Kahne). Thankfully, (Harvick) pushed me just right and helped me out."
Curiously, Johnson hasn't finished second in any of Harvick's five victories during the same stretch. In races won by Harvick during the past year, Johnson has finished in the top 10 only once – a ninth at Homestead-Miami Speedway in the 2014 season finale.
A look at the top two finishers in Johnson's last six wins in Sprint Cup:
Michigan International Speedway, June 15, 2014:
1. Jimmie Johnson — led 39 laps
2. Kevin Harvick — led 63 laps
Texas Motor Speedway, Nov. 2, 2014:
1. Jimmie Johnson — led 191 laps
2. Kevin Harvick — led two laps
Atlanta Motor Speedway, March 1, 2015:
1. Jimmie Johnson — led 92 laps
2. Kevin Harvick — led 116 laps
Texas Motor Speedway, April 11, 2015:
1. Jimmie Johnson — led 128 laps
2. Kevin Harvick — led 96 laps
Kansas Speedway, May 9, 2015:
1. Jimmie Johnson — led 10 laps
2. Kevin Harvick — led 53 laps
Dover International Speedway, May 31, 2015:
1. Jimmie Johnson — led 23 laps
2. Kevin Harvick — led 91 laps