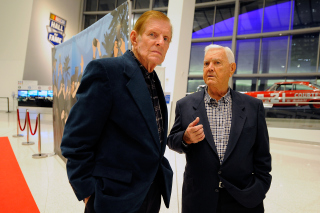 Monday wasn't just Memorial Day, it was also very special for NASCAR Hall of Famer Bud Moore, who celebrated his 90th birthday on the same day.
It was quite fitting as before he became a legendary NASCAR team owner, Moore was a World War II hero.
Wood Brothers Racing put out a media release Monday on Moore's life, particularly his illustrious military service. We thought we'd share some of those highlights with you:
* Grew up in the Depression, the second-oldest of 10 children. One day after graduating high school, the Army drafted Moore. "I got out of school on June 1, 1943, and I got my draft papers on June 2," Moore said.
* After a brief furlough back home for Christmas 1943, Moore was deployed to England to prepare for D-Day, June 6, 1944, when he and 150,000 other troops stormed the beaches of Normandy to begin liberation of France and Western Europe from the Nazis.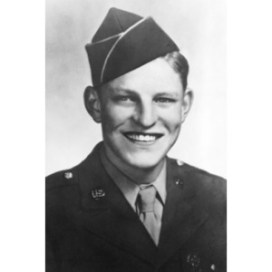 * Moore and his fellow soldiers were aboard a boat that left Liverpool, England, under the pretense of a "dry run" across the English Channel. But Moore, who manned a water-cooled machine gun, knew otherwise: "I told some of my buddies that this ain't no dry run," he said.
* The barrage of the Normandy coast began at 4:30 a.m. Recalled Moore, "When those doggone guns started firing, it looked like they were going to blow the coast up," he said. "It looked like it would be a piece of cake, but how wrong we were."
* After leaving Normandy unscathed ("The Good Lord was looking after me," Moore said), Moore would become part of the fiercest fighting of the War. By the time the war ended over a year later, Moore would receive five Purple Hearts, four for being struck by shrapnel from German artillery rounds, while the fifth was for being shot in the hip by a German machine gun.
* Yet even with the wounds he sustained, Moore didn't return to the U.S. Rather, he went right back into combat, serving under legendary Gen. George Patton. "Patton didn't believe in taking ground twice," Moore recalled. "Others would be two or three miles behind the lines giving orders. Patton was up there with us."
* Under Patton's leadership, Moore received two Bronze Stars, one for being on the front line of combat for 9 ½ months without a break. He earned the second Bronze Star when just he and his driver stormed a German headquarters, capturing 18 German soldiers, including five officers. When he brought the captured soldiers back to camp, Moore's commanding officer quipped, "Moore, what in the heck is going on?" To which Moore equally quipped back, "We're fighting a war."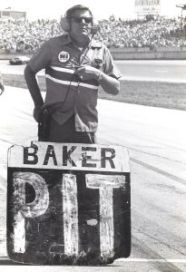 * Moore still thinks of the hellish experiences he went through, especially all the fellow soldiers and friends that made the ultimate sacrifice. "We lost a lot of them," he said. "We just hollered for the medic and kept going. How many we lost I don't know."
* Although he's been invited several times for D-Day anniversary tributes, Moore has never returned to Normandy. "When I got on that ship to come home, I told the Lord that if he'd get me that 5,000 miles back home I wouldn't be back," he said. "And I haven't been back. I don't want to go back. I left too many friends over there."
After returning stateside, Moore laid the foundation for what would become an outstanding NASCAR career by starting a used-car business with long-time friend Joe Eubanks.
Soon after hanging out their shingle, Moore and Eubanks traded a 1939 Ford for a race car and, as the Wood Brothers release aptly stated, "the rest is NASCAR history."
After serving as crew chief for Buck Baker's championship in 1957, Moore would go on to spend nearly 40 years as a team owner. His cars won 63 races, 43 poles and two championships in the Grand National and Winston Cup series.
He was a member of the second class to be inducted into the NASCAR Hall of Fame in 2011.
Throughout his ownership career, Moore not only was a major innovator, he also worked alongside the Wood Brothers as both teams tried to get the most out of their Fords.
But on race day, the Wood Brothers knew they wouldn't get much help from Moore. One of his favorite sayings was simple yet powerful: "Come Sunday, it's every man for himself," Moore said.
Even at 90, the life-long Spartanburg, S.C., resident is still very active, tending daily to his cattle farm.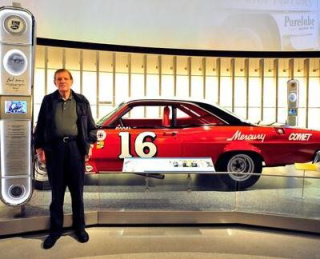 And Moore is not just a great American hero and NASCAR legend, he's also a great American treasure, said Eddie Wood.
"Hearing what Bud Moore has said about his experiences at Normandy really makes you think how lucky we all are that people like him did what they did," said Wood, who went so far as to add that there should be a movie made on Moore's life.
"If they had ever made a movie, there's only one actor who could have done him justice, and that's John Wayne," Wood said. "Beyond all the racing and the wins and the championships, I look at him as a hero of World War II and a great friend."
Follow @JerryBonkowski