Matt Kenseth will lead the field to the green flag for Sunday night's Coca-Cola 600.
Here's a look at who will start behind him.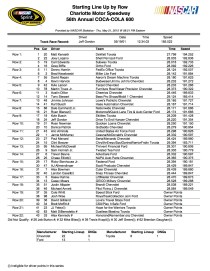 NASCAR Cup Series to go dirt trackin' at Bristol in 2021
Photo: Bristol Motor Speedway
Leave a comment
Cup teams will compete on a dirt track for the first time in more than 50 years when the series races March 28 at Bristol Motor Speedway, the track announced. 
The full Cup schedule is set to be released at 3:30 p.m. ET today.
"Bristol Motor Speedway has hosted many historic events over the years and we will be adding to that resume," Jerry Caldwell, general manager of  Bristol Motor Speedway, said on Wednesday. "We can't wait to see how the stars of NASCAR take to the dirt."
Said Austin Dillon of the race: "I'm super pumped. … I'm hoping it becomes a staple."
Caldwell said the track will work with NASCAR on the race format for the dirt event.
"This is returning to our roots in racing," Caldwell said. He noted that this concept has been talked about for "awhile." He also said the track will "explore other options" on any other series that could race on dirt beyond NASCAR.
Caldwell said the change comes from feedback from fans.
Bristol hosted dirt races in 2000-01 with the World of Outlaws (see video below of 2001 race) and dirt late models. The track used 14,000 truckloads of dirt for the project.
The last Cup race on dirt was Sept. 30, 1970 at the North Carolina State Fairgrounds. Richard Petty won a 200-lap race on the half-mile track. He earned $1,000. Petty was among one of five Hall of Famers in the 23-car field that day. Bobby Isaac finished third, Bobby Allison placed sixth, Benny Parsons was 14th, Wendell Scott placed 20th.
The NASCAR Gander RV & Outdoors Series raced on dirt at Eldora Speedway from 2013-19. It was not held this year because of COVID-19 restrictions.
Bristol also will host a second race. That event again will be in the playoffs. The Sept. 18 race again will be an elimination race in the first round. The playoff race will be on the concrete track surface.
Road America to host 2021 Cup race on July 4
Photo by Stacy Revere/Getty Images
Leave a comment
Food, fireworks and road course racing will fill the July 4 calendar for NASCAR fans with Road America hosting the Cup series on that holiday weekend in 2021.
The track announced the race date Wednesday. The full Cup schedule is set to be released at 3:30 p.m. ET today.
The 4.048-mile course has hosted Xfinity races since 2010. Among the current Cup drivers who won there in the Xfinity Series are Michael McDowell in 2016 and Christopher Bell in 2019.
The track takes the holiday date that had been held by Daytona International Speedway from 1959-2018 before Indianapolis Motor Speedway hosted the Cup Series that weekend last year.
"We certainly have been working very close with (Road America) not only how we bring this to life but, ultimately, where it was going to be located on the schedule," Ben Kennedy, NASCAR vice president of racing operations, told NBC Sports, said of adding the Wisconsin track to the schedule. "We started to really toss around the idea of hey, what about July 4th weekend and what would that look like for the track?
"Just even the name, Road America, it feels like Americana and the July 4th weekend and everything. Fireworks, camping and cookout, everything that goes along with it. That track is almost synonymous with it. I think that's where we really ended up kind of tying Road America to July 4th weekend. Working with NBC on that as well, they are certainly very bullish on it and excited about having Road America on that weekend."
Tim Flock won the lone Cup race at Road America in 1956. Flock was among nine NASCAR Hall of Famers among the 26 drivers in that race. Others included Fireball Roberts (third), Herb Thomas (sixth), Buck Baker (eighth), Rex White (11th), Lee Petty (13th), Joe Weatherly (20th), Curtis Turner (24th) and Junior Johnson (26th).
Circuit of the Americas to host Cup for first time in 2021
R. Kevin Butts photo - Courtesy of COTA
Leave a comment
The Cup Series will do more road course racing in 2021 with the addition of the Circuit of the Americas to the schedule, the track announced Wednesday.
The Cup race will be held May 23.
The 3.41-mile road course in Austin, Texas, has hosted Formula One and IndyCar races, among others since its debut in 2012. The track also has a 2.2-mile, 15-turn short course. Announcements regarding race length, course selection and the full weekend schedule will be made at a later date.
A NASCAR event has never been held at Circuit of the Americas, but Tony Stewart piloted a Stewart-Haas Racing car there last year in a demonstration run.
COTA is located roughly 220 miles south of Texas Motor Speedway. Speedway Motorsports will be the event's promoter.
"Our company is proud to have a 60-year history of fabulous firsts in motorsports entertainment, and we are honored to bring America's premier racing series to one of the world's most renowned entertainment venues and cities for the very first time," said Speedway Motorsports President and CEO Marcus Smith in a statement. "I'd like to thank COTA CEO Bobby Epstein as well as NASCAR's executive leadership for supporting us in an endeavor to do something that we believe will be spectacular for race fans, not only in Texas but around the world. We work and challenge ourselves every day at Speedway Motorsports to create amazing experiences that will last a lifetime, and we know NASCAR at COTA will deliver in 2021." 
"I'm grateful for Marcus Smith's vision and determination to make this event possible," said Circuit of the Americas CEO and Chairman, Bobby Epstein in a statement. "His teams in Charlotte and at Texas Motor Speedway have created a spirit of partnership that will make for a spectacular weekend of fun and competition. Speedway Motorsports, along with the leadership at NASCAR, have a 'Fans First' attitude and have responded to everyone who has long desired to see a Cup Series race at COTA. Fans who've been here before will witness stock car racing at its finest for the first time, and first-time visitors will be amazed at the views and friendly experience. It will be our pleasure to write another chapter of motorsports history alongside Speedway Motorsports and NASCAR in 2021." 
The complete 2021 schedule will be announced this afternoon by NASCAR.
The NASCAR Cup Series will return to Indianapolis Motor Speedway in 2021 but will race on the road course for the first time instead of the oval, track officials announced Wednesday.
Cup will race on the road course on Aug. 15. That race will be held a day after the NTT IndyCar Series races on the Indy road course.
"Our first NASCAR-IndyCar weekend was a big success last July, with positive feedback from our loyal fans who watched the races on NBC and from the drivers, teams and participants involved," IMS President J. Douglas Boles said in a statement. "The Xfinity Series' debut on the IMS road course provided exactly the kind of thrilling action from the green to checkered flags that we anticipated, so we know the teams and drivers of the Cup Series will put on a great show as they turn left and right for the first time at IMS.
"We can't wait to welcome back fans to see NASCAR and IndyCar together during this exciting weekend as we add another memorable chapter in the long, storied history of the Indianapolis Motor Speedway."
The Cup Series has raced at Indy since 1994. But as the racing there has been questioned and the sport has made a push for more road course races, NASCAR moved the Xfinity Series to the road course this year as a trial. The event was well received, creating the opportunity to move next year's Cup race to the road course as well.
"Indy is Indy, no matter if you're on the road course or you're on the oval," Joey Logano said of what a win there would mean. "It doesn't matter. If you're on the dirt track, I don't care, it's Indy. It's that big deal to win there. It doesn't matter if you're in a Cup car, IndyCar or a tricycle, you want to win at that race track."
Indy's road course is 2.439 miles and features 14 turns. Chase Briscoe won the Xfinity race there after a four-car battle for the lead in the final laps.
The full Cup schedule will be announced Wednesday afternoon. The Xfinity schedule will be announced at a later date. Boles said on a media Zoom he was unsure of the Xfinity plans but talked with Logano about an interest Logano would have in running in a Xfinity race there to get more track time for the Cup race.