There was a time when Matt Kenseth wasn't a NASCAR Sprint Cup Champion with 32 career wins.
Back in 1988, Kenseth was 16 years old and just starting out in racing by competing in Late Models.
He was also pretty good.
The Cambridge, Wisc., native had done so well in his first few races that his father, Roy, decided the larger racing community needed to hear about it.
The result was a letter that appeared in the June 29 edition of a publication called "Checkered Flag." The letter was posted recently in the NASCAR section of Reddit.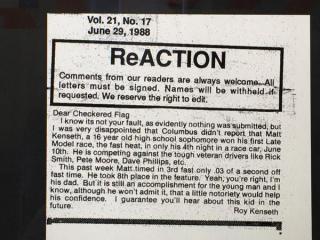 In the letter, Roy Kenseth touts his son's first Late Model win in just his fourth night in a race car earlier in the month on June 10.
Matt was a sophomore in high school at the time, but his father believed he had great things ahead of him.
Wrote Roy Kenseth: "I know, although he won't admit it, that a little notoriety would help his confidence. I guarantee you'll hear about this kid in the future."
His son would make his debut in a NASCAR national series eight years later. On May 25, 1996 at Charlotte Motor Speedway in the Busch Grand National Series' (Xfinity) Red Dog 300. Driving a No. 55 Chevrolet for Carl Wegner, Kenseth started 37th and finished 31st, six laps down.
His first Sprint Cup championship would come seven years later in 2003.