Chris Buescher got tires while Chase Elliott essentially tired out. That pretty much explains how Buescher earned his second career Xfinity Series victory in Sunday's 3M 250 at Iowa Speedway.
When a late caution came out with less than two laps left in the scheduled 250-lap race, Buescher and three other drivers in the top 5 went to pit road for tires and fuel, while Elliott stayed on the track to keep his lead.
That caution extended the race from its scheduled 250-lap distance to a 259-lap green-white-checker outcome, the first Xfinity race to go extra distance at the .875-mile central Iowa racetrack.
When the race resumed, Buescher got past Elliott on the restart with two laps to go and sailed on to the checkered flag, and also took over the lead in the Xfinity points standings.
It was also the 135th Xfinity Series victory for Roush-Fenway Racing.
Elliott, meanwhile, had a slow restart and saw the bid for his first win of 2015 slip through his hands.
Elliott finished second, followed by Erik Jones, Brian Scott and Ryan Blaney. Sixth through 10th were Darrell Wallce Jr., Ben Rhodes, Brandon Jones, Elliott Sadler and Brendan Gaughan.
How Buescher won: With less than two laps remaining in the scheduled 250-lap race, Jamie Dick hit the wall and collected Ross Chastain. Buescher and three other drivers in the top five came to pit road for tires and/or fuel, while Elliott elected to stay out and retain track position. On the resulting green-white-checker finish, Buescher dived low from the second row into the lead.
Who else had a good day: Even though he finished second, Elliott was still heartened by a strong run. The reigning Xfinity Series champ still has yet to win this season, but felt he and his team made significant progress with Sunday's finish, even though it didn't end in Victory Lane. "It's part of racing," Elliott told Motor Racing Network. "I've seen 'em go both ways. Everything comes around. It was just unfortunate to us. We had a great car all weekend. We're working real hard to get our program better. I thought today and this whole weekend we really came together well, had a solid week and were that close to having a great day." … Erik Jones and Darrell Wallace, who recovered from early contact with each other to finish 3rd and 6th, respectively. … Ben Rhodes, who skipped his high school graduation to compete at Iowa this weekend, finished seventh.
Who had a bad day: There was one significant incident that drew NASCAR's ire: Brennan Poole was parked after being involved in a second wreck of the race with JJ Yeley on Lap 153 in what appeared to be possible retaliation for an earlier incident on Lap 11. Once Poole took his car to the garage, he was immediately summoned to the NASCAR hauler.
MORE: Brennan Poole parked, ordered to NASCAR hauler after second crash with JJ Yeley at Iowa
Notables: Elliott dominated the event, leading 114 of the 259 laps. Buescher led the second-most laps (94), while Daniel Suarez led 48. … This was the first ever green-white-checker finish in the Xfinity Series at Iowa Speedway.
Quote of the day: "It's awesome, awesome. I'm still shaking. I'm in shock." – Race winner Chris Buescher.
What's next: Hisense 300, Saturday May 23 at 2:30 pm ET, Charlotte Motor Speedway.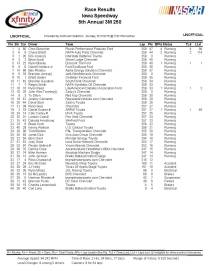 Follow @JerryBonkowski