https://www.youtube.com/watch?v=-vexLchloBM
In an outstanding green-white-checker finish, Kasey Kahne defeated Erik Jones by less than the width of a bumper to win Friday night's North Carolina Education Lottery 200 at Charlotte Motor Speedway.
Kahne won by .005 of a second, tying for the second-closest margin of victory in NASCAR Camping World Truck Series history.
It wasn't all good news for Kahne's JR Motorsports team. NASCAR announced after the race that the winning Truck was too low on both sides of the front and too high on the right rear. Any penalties will likely be announced Tuesday.
Kahne has made just six career starts in a Truck and has now won five of those races (plus one second-place finish). He defeated Jones, despite the latter dominating the extended 139-lap race with 88 laps led.
What's more, both Kahne and Jones — who qualified on the pole and the outside, respectively — had to drop back to start the race from the back of the field due to unapproved changes (Kahne) and missing the driver's meeting (Jones).
Reigning series champ Matt Crafton finished third, followed by Tyler Reddick and Brad Keselowski.
Sixth through 10th were John Wes Townley, Timothy Peters, Matt Tifft, Justin Boston and Spencer Gallagher.
How Kahne won: It looked like Jones would win until Daniel Hemric brought out the final caution with a half-lap to go in regulation time. The race was extended to a two-lap green-white-checker finish and Kahne somehow was able to get in front of Jones by a mere 2-3 inches as they both crossed the finish line. … "Jones was really fast, he was kind of in a league of his own when he could get to clean air," Kahne said. "I knew if I could stay back and stay with him, that as long as he didn't get to clean air, I'd be alright. … That's a fun win. It felt good."
Who else had a good day: Erik Jones had the class truck of the field, leading a race-high 88 laps. But he just couldn't get past Kahne when it mattered most, at the finish line. Still, Jones has nothing to be ashamed of: including this race, he's now led 240 laps in his last two races.
Who had a bad day: Mason Mingus had a good race going until 25 laps from the scheduled finish, when he slammed the inside retaining wall hard. Mingus was uninjured but instead of a potential top-10 finish, he wound up with a 26th place finish.
Notables: Kahne's victory was the first Truck win ever for JR Motorsports. … It was also the 200th career Truck win for Chevrolet. … Crafton led the second-most laps (24), while Kahne led the third-most (22). … After the struggles his team endured last week at Kansas, Brad Keselowski had to be happy that two of his trucks finished in the top five Friday night: Tyler Reddick was fourth and Keselowski was fifth.
Quote of the day: "Man, it sucks when it has to come down to a green-white-checker and the fastest truck loses the race for the second week in a row. I just can't believe we lost it. I don't even know what to say. It really, really hurts. … It's nice to have fast trucks, but I wish we could win. It just really, really hurts. I really, really wanted this one and it's hard to come up second." – Erik Jones, runner-up in Friday night's race.
What's next: Friday, May 29, 5:30 pm ET, Lucas Oil 200, Dover International Speedway; Dover, Del.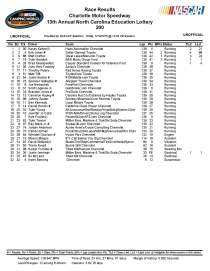 Follow @JerryBonkowsk