Paul Menard won the pole, while Martin Truex Jr. looked like he had the car to beat.
But when the second segment of the Sprint Showdown was over Friday night at Charlotte Motor Speedway, it was Clint Bowyer and Michael Waltrip Racing that raced their way into Saturday's Sprint All-Star Race.
Bowyer joins Greg Biffle, who won the first 20-lap segment of the Showdown, as the two drivers to transfer into the All-Star Race.
Also transferring in by virtue of winning the Sprint Fan Vote was Danica Patrick.
"With the year we've had, I felt like going out there and doing a burnout," Bowyer told Fox Sports 1. "These guys (his team) need a little of anything positive right now.
"I watched Greg (Biffle) out there (in the first race) and he was just taking off, so I was like, 'Well, I'm done.' I saved myself for the next one and hoped I had my opportunity – and we did."
Menard and Truex came up short, finishing second and third, respectively, and will miss the All-Star Race as will the rest of the non-winners in both Showdown segments.
Sam Hornish Jr. finished fourth, followed by Chase Elliott, Austin Dillon, Trevor Bayne, Justin Allgaier, Patrick and Casey Mears.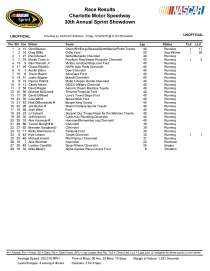 Follow @JerryBonkowski