Kurt Busch released a statement through his PR firm after the Delaware Department of Justice said Busch wouldn't face charges for ex-girlfriend Patricia Driscoll's claim of alleged domestic abuse.
The statement:
          "I am grateful that the prosecutors in Delaware listened, carefully considered the evidence, and after a thorough investigation decided to not file criminal charges against me.  I wish to thank my family, friends, fans, and race team who stood by me throughout this nightmare with their unwavering support.  Thanks also goes to my legal team for making sure that the truth got out and was fully provided to the prosecutors.  As I have said from the beginning, I did not commit domestic abuse.  I look forward to being back in racing as soon as possible and moving on with my life."
Busch has been on an indefinite suspension from NASCAR since Feb. 20 after a Kent County (Del.) Family Court Commissioner David Jones concluded "it that "it is more likely than not" that Busch committed an act of domestic violence against his ex-girlfriend at Dover International Speedway in September. Jones issued a protective order that said Busch had to stay at least 100 yards away from Driscoll.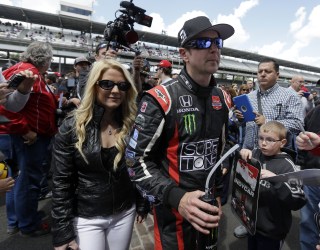 NASCAR hasn't commented on Thursday morning's news that the Delaware attorney general won't be seeking charges
In a statement provided by her PR representation, Driscoll said,
"While I respect the process, I am disappointed that full justice was not served here. My family and I take a measure of solace in the Order of Protection From Abuse granted by commissioner Jones, who ruled my account of the facts was the most credible. At great risk to my personal and professional reputation, I have spoken candidly, at length, and on the record, to a variety of outlets in an effort to correct the distortions and sensationalism that have unfortunately marked the coverage of this painful time in my family's life. I would urge anyone covering this case to stick to the well-established facts. Giving further air to baseless and discredited accusations about me does a disservice to the public and reduces a serious matter for law enforcement into tabloid gossip. In all future developments in this case, I will continue to stand up for my integrity and for justice. But for now, I am focused on my family, my friends, and my important and gratifying work with the Armed Forces Foundation."
In a separate statement, Driscoll attorney Mark Dycio said:
"The decision from the Delaware Attorney General does not deny that the assault occurred, and indicates only that the state's attorneys lack confidence in their ability to get a criminal conviction. It changes nothing about the established facts of the case. … It would be unfortunate, and a terrible precedent for victims of abuse, if the prospect of inviting a media circus fueled by Mr. Busch's wealth, notoriety, and hostile PR team in any way swayed this decision. We are comforted at least in the knowledge that the judge who did hear the evidence found clear reason to believe Busch committed the assault, and granted the protective order to Patricia and her family."
Busch is appealing the commissioner's decision. He also appealed NASCAR's suspension twice but was denied. 
Last week, Busch signed NASCAR's terms and conditions for consideration of reinstatement. On Monday, NASCAR Integrated Marketing Communications vice president David Higdon told NASCAR Talk there is no timetable for Busch to complete the requirements for reinstatement.
For the third consecutive race, Regan Smith will drive the No. 41 Chevrolet in place of Busch this weekend at Las Vegas Motor Speedway, which also happens to be in Busch's hometown.
In an email to USA TODAY Sports, Driscoll's attorney responded to Thursday's news.
"Patricia and I are very disappointed that Kurt will not be prosecuted for the abusive acts he committed in September," Carolyn McNeice told USA TODAY Sports via email on Thursday. "The AG's decision, however, only makes the Order that we received for Protection from Abuse that much more important.
"As you can see, in some cases, this is the only protection the victim will get. This civil no contact order is a critical tool for protecting victims."