Quick: Who drove the GoDaddy Chevrolet in the Sprint Cup Series before Danica Patrick?
(And no, this is not a trick question.)
Answer: It was Nov. 2, 2008, at Texas Motor Speedway, that a young, brash kid from suburban Detroit made his Sprint Cup debut, driving the No. 25 GoDaddy.com Hendrick Motorsports Chevrolet.
He started 37th and finished 19th in his first Cup start. Just over four years later, he won the the 2012 Sprint Cup championship in 2012 with Team Penske.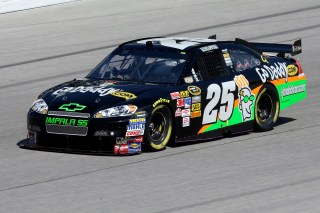 This Sunday at Las Vegas Motor Speedway, Brad Keselowski will mark his 200th career Sprint Cup Series start.
"It's hard to believe this is my sixth year at Penske," said Keselowski, who turned 31 on Feb. 12.
The No. 2 Ford Fusion driver has compiled an impressive record, particularly since he joined Team Penske in 2010. He has 16 wins, eight pole positions, 50 top-5 and 80 top-10 finishes in 199 Cup starts.
He also won the 2010 Xfinity Series championship for Team Penske and has another 32 wins, 105 top-5 and 139 top-10 finishes and 19 poles in 217 races in NASCAR's junior league.
"I remember when I walked in the door at Team Penske in the fall of 2009, Penske had three teams at the time with the 2, the 77 and the 12," Keselowski recalled. "I remember seeing three cars parked separate from each other and all the teams were different.
"One team was in the Chase and the other two weren't and now here we are we have all of our teams working together very closely. … I'm just thrilled to be a part of that.
"All of us driver lineup-wise, I think, are set up to be here for years to come," Keselowski said. "It's been a heck of a ride with winning championships (and) winning races."
Follow @JerryBonkowski