NASCAR heads west for the next three weeks, starting this Sunday with a trip to the Diamond in the Desert, the 1.5-mile Las Vegas Motor Speedway.
It's the second consecutive 1.5-mile track for the series, but because it isn't as abrasive as Atlanta Motor Speedway, Las Vegas' surface will present a much different challenge for drivers.
"[At Atlanta,] we have, I don't know, maybe a 3- or 4-second fall-off in tire," Atlanta winner Jimmie Johnson said after his victory Sunday at Atlanta. "In Vegas, it will probably be just a second. Just a different dynamic in how the car works."
Here's a look at how top Sprint Cup drivers have fared over the years at Las Vegas, which was reconfigured in 2006 with progressive banking in the turns.
Greg Biffle (No. 16 Cheez-It Ford)
· Two top fives, six top 10s; one pole
· Average finish of 14.5
· Average Running Position of 12.3, sixth-best
· Driver Rating of 97.9, fifth-best
· 150 Fastest Laps Run, sixth-most
· 568 Green Flag Passes, eighth-most
· Average Green Flag Speed of 170.725 mph, fifth-fastest
· 1,759 Laps in the Top 15 (65.4%), eighth-most
· 281 Quality Passes (passes of cars in the top 15 under green), 11th-most
Dale Earnhardt Jr. (No. 88 Nationwide Chevrolet)
· Three top fives, eight top 10s
· Average finish of 14.7
· Average Running Position of 14.0, eighth-best
· Driver Rating of 91.5, ninth-best
· 108 Fastest Laps Run, eighth-most
· 584 Green Flag Passes, fifth-most
· Average Green Flag Speed of 170.610 mph, sixth-fastest
· 1,857 Laps in the Top 15 (69.0%), sixth-most
· 336 Quality Passes, fifth-most
Carl Edwards (No. 19 Comcast Toyota)
· Two wins, five top fives, six top 10s
· Average finish of 9.2
· Average Running Position of 12.0, fifth-best
· Driver Rating of 97.8, sixth-best
· 159 Fastest Laps Run, fifth-most
· 636 Green Flag Passes, second-most
· Average Green Flag Speed of 170.568 mph, seventh-fastest
· 1,879 Laps in the Top 15 (69.8%), fourth-most
· 390 Quality Passes, second-most
Jeff Gordon (No. 24 3M Chevrolet)
· One win, six top fives, eight top 10s
· Average finish of 15.0
· Average Running Position of 9.7, second-best
· Driver Rating of 103.7, second-best
· 181 Fastest Laps Run, fourth-most
· 548 Green Flag Passes, 11th-most
· Average Green Flag Speed of 170.927 mph, third-fastest
· Series-high 2,130 Laps in the Top 15 (79.2%)
· 385 Quality Passes, third-most
Kevin Harvick (No. 4 Jimmy John's/Budweiser Chevrolet)
· Three top fives, five top 10s
· Average finish of 14.7
· Average Running Position of 11.6, fourth-best
· Driver Rating of 94.5, eighth-best
· 89 Fastest Laps Run, 10th-most
· 571 Green Flag Passes, sixth-most
· Average Green Flag Speed of 170.564 mph, eighth-fastest
· 1,870 Laps in the Top 15 (69.5%), fifth-most
· 316 Quality Passes, sixth-most
Jimmie Johnson (No. 48 KOBALT Tools Chevrolet)
· Four wins, five top fives, eight top 10s
· Average finish of 9.2
· Series-best Average Running Position of 8.9
· Series-best Driver Rating of 113.6
· Series-high 346 Fastest Laps Run
· 553 Green Flag Passes, 10th-most
· Series-best Average Green Flag Speed of 171.233 mph
· 2,090 Laps in the Top 15 (77.7%), third-most
· 365 Quality Passes, fourth-most
Kasey Kahne (No. 5 Time Warner Cable Chevrolet)
· Three top fives, six top 10s; three poles
· Average finish of 13.5
· Average Running Position of 14.3, 11th-best
· Driver Rating of 88.1, 10th-best
· 94 Fastest Laps Run, ninth-most
· 609 Green Flag Passes, third-most
· Average Green Flag Speed of 170.170 mph, 11th-fastest
· 1,735 Laps in the Top 15 (64.5%), ninth-most
· 290 Quality Passes, 10th-most
Matt Kenseth (No. 20 DEWALT Toyota)
· Three wins, six top fives, eight top 10s; one pole
· Average finish of 11.5
· Average Running Position of 14.0, 10th-best
· Driver Rating of 98.1, fourth-best
· 197 Fastest Laps Run, second-most
· Average Green Flag Speed of 170.972 mph, second-fastest
· 1,774 Laps in the Top 15 (65.9%), seventh-most
· 295 Quality Passes, ninth-most
Joey Logano (No. 22 Pennzoil Ford)
· One top five, two top 10s; one pole
· Average finish of 12.3
· Average Running Position of 13.8, seventh-best
· Driver Rating of 87.5, 11th-best
· Average Green Flag Speed of 170.111 mph, 12th-fastest
Ryan Newman (No. 31 Caterpillar Chevrolet)
· Three top fives, seven top 10s; one pole
· Average finish of 17.3
· Driver Rating of 81.9, 12th-best
· 37 Fastest Laps Run, 12th-most
· 1,667 Laps in the Top 15 (61.9%), 11th-most
· 298 Quality Passes, seventh-most
Tony Stewart (No. 14 Mobil 1/ Bass Pro Shops Chevrolet)
· One win, six top fives, nine top 10s
· Average finish of 14.0
· Average Running Position of 14.0, ninth-best
· Driver Rating of 97.1, seventh-best
· 188 Fastest Laps Run, third-most
· 538 Green Flag Passes, 12th-most
· Average Green Flag Speed of 170.498 mph, ninth-fastest
· 1,733 Laps in the Top 15 (64.4%), 10th-most
· 298 Quality Passes, seventh-most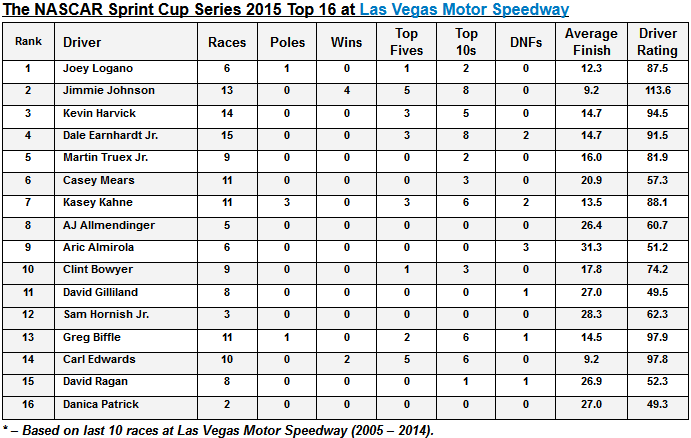 Track Data
Season Race #: 3 of 36 (3-8-15)
Track Size: 1.5-miles
Banking/Turns 1 & 2: 20 degrees
Banking/Turns 3 & 4: 20 degrees
Banking/Frontstretch: 9 degrees
Banking/Backstretch: 9 degrees
Frontstretch Length: 2,275 feet
Backstretch Length: 1,572 feet
Race Length: 267 laps / 400.5 Kilometers
Qualifying/Race Data
2014 pole winner: Joey Logano, Ford, 193.278 mph, 27.939 secs. 03-07-14
2014 race winner: Brad Keselowski, Ford, 154.633 mph, (2:35:24), 03-09-14
Track qualifying record: Joey Logano, Ford, 193.278 mph, 27.939 secs., 03-07-14
Track race record: Brad Keselowski, Ford, 154.633 mph, (2:35:24), 03-09-14