HAMPTON, Ga. – Jeff Gordon has said he didn't want to be showered with grandiose tributes and gifts during his final full season in NASCAR, but he didn't seem to mind Friday.
Certainly, his 4-year-old son, Leo, didn't mind.
Atlanta Motor Speedway presented Gordon with a shiny red No. 24 Bandoleros car with the name "Leo Gordon" above the doorframe.
"I really appreciate it not being a rocking chair," Gordon cracked during a presentation of the farewell gift.
The four-time series champion, who made his Sprint Cup debut in November 1992 at Atlanta, put his 7-year-old daughter, Ella, in a quarter-midget car for a test last year.
"What do you give Jeff Gordon, the guy that's got everything? Well, we've got a couple of Gordons coming along," Atlanta president Ed Clark said. "Hopefully, we'll see some other Gordons racing here at Atlanta Motor Speedway one day and hope this is the start."
Atlanta Motor Speedway plays host to a Bandoleros series on the quarter-mile track (which encompasses the frontstretch and pit lane of the 1.5-mile oval), and it's produced NASCAR drivers such as David Ragan and Joey Logano.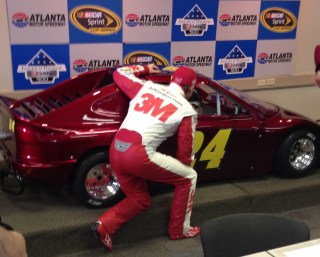 The cars hit top speeds in the 60-mph range, and Clark said most kids start racing them at about 8 years old.
That's fine with Gordon, who joked he wasn't sure if he and his wife, Ingrid, are ready to be racing parents.
"Mom and Dad are going to have to figure it out," he said. "We did the quarter-midgets a couple of times last year, and Ella was ready to go (racing). Leo is not quite ready, but I can see him being ready soon. Mom and dad were not ready for it yet. That was terrifying, and this thing goes a lot faster than a quarter-midget. It's going to be more on me to get my heart ready for it."
Gordon said he has ordered two quarter-midgets for his kids, though.
"We do plan on doing more of it," he said. "When Leo's ready, we'll have one more him. I think they're going to drive some cars. I just don't know where it's all going to go."