Joey Logano outlasted both a green-white-checkered finish and a strong last-lap challenge from runner-up Kevin Harvick to win Sunday's 57th Daytona 500 under caution.
Logano, whose previous best finish in the 500 was ninth, took the lead on Lap 191 and held on for the final 13 laps to earn his first career 500 win. The race finished under caution after a multi-car last lap wreck on the backstretch of the 2.5-mile tri-oval.
At 24, Logano becomes the second-youngest driver to win the 500 (Trevor Bayne was the youngest at 20 years old in 2011).
"I can't believe it, this is absolutely amazing," Logano said. "This is awesome. The Daytona 500! Oh my God! Are you kidding me? Unbelievable."
MORE: Unofficial Results, Winnings, and Race Stats – 57th Daytona 500
Logano tried to maintain his calm and focus on what he had to do during the red flag period to clean up debris from the wreck between Justin Allgaier and Ty Dillon on Lap 197, which set up the GWC and resulting last-lap caution.
"Everything," Logano said when asked what he was thinking while waiting. "I was trying to stay relaxed. You had a red flag and that gave you the opportunity to think of everything. I'm like still in complete awe. I can't believe this."
It was the ninth — and obviously the biggest — win of the Connecticut native's 220-race Sprint Cup career.
Harvick finished second, followed by last year's 500 winner Dale Earnhardt Jr., Denny Hamlin and Jimmie Johnson.
"I really thought everything was lined up pretty well coming down the backstretch," Harvick said. "I was trying to back up to Junior and get a run so we were lined up with a little distance coming off Turn 4."
Added Earnhardt, "We had a really fast car, maybe the best car here. I had a lot of confidence to keep digging and get some spots back. I'm just a little disappointed I let the guys down because we should have won the race."
Sixth through 10th were Casey Mears, Clint Bowyer, Martin Truex Jr., Kasey Kahne and Greg Biffle.
There were 27 lead changes with 12 different leaders.
Thirty-three cars finished on the lead lap.
The race appeared headed to one of the tightest finishes seen in years, with a pack of more than 15 cars all in tight, three-wide tandem starting about Lap 189.
Then with three laps left in the scheduled 200-lap event, Allgaier and Dillon got together. That brought out a caution and then a nearly seven-minute red flag stoppage to complete cleanup of debris, setting up three extra laps for a 203-lap outcome.
Making the 23rd and final Daytona 500 start of his career, pole-sitter Jeff Gordon led at the halfway point of the race, having paced the field for 77 of the first 100 laps.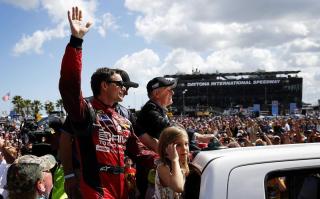 Even though he eventually led 87 laps, the most of any driver, Gordon finished 33rd after being one of several cars involved in a last-lap wreck.
"For some reason, I'm still like smiling and enjoying every moment," Gordon said. "Obviously, I enjoyed the first half (of the race) a lot more than the second half. What an amazing car we had. We were out there in the front, controlling the race.
"This was an amazing week, an amazing day and I'm just in this different place that's so foreign to me but so incredible, me taking it all in and enjoying every moment. Right now, I'm a little bit sad, this is my final Daytona 500, but I'm more upset that we didn't have a shot at winning there at the end."
As for how the two replacement drivers in the field fared:
* Two-time defending Camping World Truck Series champ Matt Crafton, filling in for the injured Kyle Busch, finished 18th in his first career Sprint Cup race.
* Regan Smith, replacing the suspended Kurt Busch, finished 16th. It marked the first time a Busch brother has not appeared in a Sprint Cup race since late 2001.
On Lap 160, Brad Keselowski's hopes for a first Daytona 500 win went up in smoke when he became the second of three drivers to suffer engine failure in the race.
"I guess (it was) an oil containment issue, something in the oil pan, broke something important," Keselowski, who finished 41st, told Fox Sports. "We were just starting to get position for the last run. Had just got to the top five, and it broke."
Jamie McMurray and Ryan Newman tangled after going through oil that was laid down on the track by Keselowski's Ford.
While McMurray was able to continue on, Newman suffered damage to the right side of his Chevrolet, taking his car to the garage for repairs.
The third engine to expire came on Lap 175, when Ryan Blaney's Wood Brothers Racing Ford also went up in smoke.
Two of the top names and potential favorites to win Sunday's race were involved in an early wreck on Lap 41.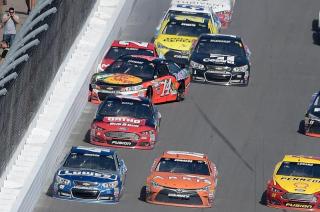 Tony Stewart and two-time Daytona 500 winner Matt Kenseth were part of a four-car scrum that collected Blaney and two-time 500 winner Michael Waltrip.
Stewart, who hoped to finally win his first Daytona 500 in his 17th career start in The Great American Race, suffered significant right front end damage, particularly around the fender.
Stewart's car was taken to the garage for repairs, but was officially ruled out of the race on Lap 140, finishing 42nd.
Kenseth had right side damage, as well, but it was less extensive as Stewart's, and fell one lap down while repairs were made.
Kenseth eventually finished one lap down in 35th place.
Blaney's and Waltrip's cars suffered minor damage. All three drivers were able to get back into the race.
From a TV replay, it appeared Stewart got loose, was tapped by Blaney and Kenseth hit the wall trying to avoid the wreck in front of him.
Stewart said on his team radio, "I'll take the blame for that one. One hundred percent my fault. It started getting tighter, but we didn't have a problem elsewhere."
Landon Cassill was the first driver to exit the race with engine failure on Lap 19.
"It was sudden, just a typical engine failure where you never see it coming," Cassill said, per a Chevrolet media release. "The most important thing is that we raced our way into the Daytona 500 and we would have liked to have scored a few more points than what we are going to end up scoring today."
Follow @JerryBonkowski