UPDATED (7:25 pm ET): Kyle Busch will not race in Sunday's Daytona 500 due to injuries incurred in Saturday's Xfinity Series race. He is being treated for an unspecified right leg injury. Click here to see Dustin Long's story.
Kyle Busch was taken off on a stretcher after a brutal head-on hit into the inside retaining wall in the closing laps of Saturday's Xfinity Series season-opening race at Daytona International Speedway.
Bypassing the DIS infield medical care center, Busch immediately was transported by ambulance to Halifax Health-Medical Center for further evaluation, track officials announced.
The younger Busch brother will miss Sunday's Daytona 500 Sprint Cup season opener because of an unspecified right leg injury, NASCAR officials said.
Busch got into the rear of teammate Erik Jones' car, bounced off into the side of Kyle Larson's car and then rocketed hard to the left, impacting the wall at an estimated 90 mph, according to Fox Sports 1.
Busch, 29, climbed out of his crumpled car but immediately was helped to the grass by a safety team. He remained there for about 10 minutes while medical personnel stabilized Busch.
Busch was awake and alert while being treated, but appeared to be in obvious pain.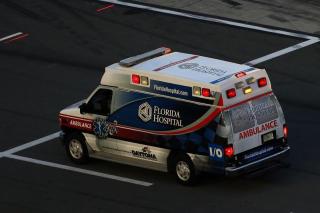 Busch's right leg was stabilized and placed in an air cast.
Busch has 29 career Cup wins and had qualified fourth for the Daytona 500.
His older brother Kurt indefinitely was suspended Friday by NASCAR after a protective order was granted to an ex-girlfriend and also will not race in Sunday's 57th running of the Daytona 500.
There was no SAFER barrier at the impact, causing many in the NASCAR and racing community to react on Twitter.
More information to come — check back for updates.
Follow @JerryBonkowski