Air Titan, meet Ice Titan.
With inclement weather threatening the Charlotte area and many NASCAR teams trying to reach the Daytona International Speedway (where Sprint Cup practice resumes Wednesday), Charlotte Motor Speedway pitched in to ensure smoother travel southward.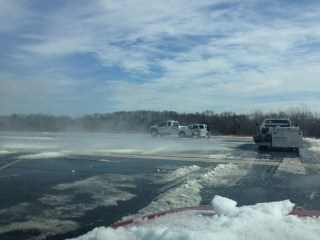 The track sent three jet dryers down the road to Concord Regional Airport, helping dry the runways covered by snow and sleet over the past 18 hours. More than a dozen flights transporting 700 members of the NASCAR industry were scheduled to head to the Daytona Beach, Fla., area over the next two days.
Rodney Childers, crew chief for defending series champion Kevin Harvick, was among those grateful.
Charlotte Motor Speedway president Marcus Smith dispatched the jet dryers through his track's operations staff after a NASCAR team called Tuesday morning with concern about the icy conditions.
Concord isn't the only airport used by NASCAR teams, most of which are based north of Charlotte. About 40 miles northwest of the Concord airport, snow-clearing (minus jet dryers) also was well under way at Statesville Regional Airport, according to Brad Keselowski's spotter (and pilot), Joey Meier.
After being dark Monday and Tuesday, Daytona's Sprint Cup garage will reopen at noon Wednesday with practice beginning at 2 p.m.