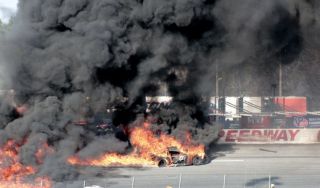 DAYTONA BEACH, Fla. – The contact didn't seem that bad. After backing into the wall, Jordan Ives' Super Late Model slid through Turn 3 at New Smyrna Speedway and stopped facing the wrong direction.
He didn't realize the fuel cell ruptured on impact.
Then he saw the fire.
Flames raced toward his car as the 16-year-old nephew of Dale Earnhardt Jr.'s crew chief, Greg Ives, remained strapped in it, secured by a five-point safety harness, snug seat and a radio wire connected to his helmet.
To Jordan, though, everything – including the flames – seemed in slow motion.
Until the car ignited.
The window net burned. Smoke and flames reached inside the car.
"I either have to crawl through the fire,'' Jordan thought "or die.''
He unbuckled his safety harness, ripped the window net down and pushed it away. Jordan reached for the roll bar to climb out, looked up and flames shot through the bottom of his helmet, blasting him in the face.
In the infield, Jordan's father, Steve, sprinted toward the car.
He did not see his youngest child's desperate attempt to escape. He saw only flames and smoke engulf the car.
BORN TO RACE
Racing came naturally to Jordan, a native of Gladstone, Mich. His grandfather drove stock cars. His dad raced. Even his mother, Angie, drove.
One day, Angie was making hot laps in Steve's IMCA dirt modified at an Iowa track and crashed. She said she didn't feel well and went to a doctor. She found out she was pregnant with Jordan.
She stopped racing. It already was in Jordan's blood. The youngest of five children, he started driving motorbikes at age 5. He graduated to micro sprint cars and then to Super Late Models, which he's raced the past four years. It's a family operation.
"I love this sport,'' Jordan said. "It's my whole life, and I couldn't see myself not racing.''
He lives in North Carolina with his uncle, Greg and his family. Greg Ives, who is in his first season as Earnhardt's crew chief, formerly raced Super Late Models.
Greg Ives mentors his nephew. When Greg has free time, they work on Jordan's car together. He's helping Jordan prepare for a future in the sport whether as a driver or crew member.
RACING IN FLORIDA
Jordan finished 13th in the Super Late Model race Friday at New Smyrna Speedway and was credited with 12th after a competitor was disqualified. The car handled well that night. He felt good about Saturday's race at the track.
Jordan made a couple of laps in the first practice session that day but returned to the pits because the brakes "weren't feeling right.'' His team inspected the brakes and bled the lines. No leaks were found.
In the second practice session, Jordan made a mock qualifying run on his race tires to scuff them and returned to the pits. The team put on another set of tires so Jordan could run more practice laps.
After Jordan ran some consistent laps, his crew chief radioed him to make one more circuit before returning to the pits.
The brakes failed entering Turn 3.
ESCAPE
Flames came through the window after Jordan pushed the net aside. This was his only escape route.
"Even though it hurt, I kept crawling through it,'' Jordan said of the fire.
The flames singed his eyebrows and the end of his bangs and reddened his cheeks when it flashed up through the bottom of his helmet.
He climbed out but landed in fire beside the car. Jordan darted away.
As Steve ran to the car, he heard his son's voice.
"My car!'' Jordan screamed. "My car! We worked so hard!''
It was Jordan's favorite. One he had run since his second year in Super Late Models. It had a new motor.
The car was gone. Jordan suffered only slight burns on his face.
As the thick black smoke rose, father and son hugged.
Jordan cried.