NEW SMYRNA, Fla. – NASCAR, which is known for its family ties behind the wheel, added another second-generation winner Friday night at New Smyrna Speedway.
Harrison Burton, the 14-year-old son of veteran Sprint Cup winner Jeff Burton, scored his first NASCAR Super Late Model victory, leading the final 10 circuits of the 35-lap feature race on the opening night of the World Series of Asphalt Stock Car Racing at the half-mile oval.
"It means the world to me," Harrison told reporters. "I'm just so glad to race clean and have fun with it. We've been kind of hunting our way in. We've been third, second, third and fourth. We've been all up in there. It's about time we got one. Hopefully, more are coming our way."
Jeff Burton, a 21-time winner in NASCAR's premier series who also is an analyst for NBC Sports, celebrated with his son in victory lane. He fields his son's team from a shop based in Concord, N.C.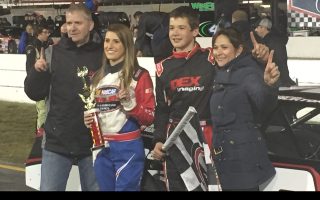 "He drives like a 20-year-old," Jeff Burton said about his son. "He's a fun kid to be around. He's committed to this; he's dedicated. We don't do this because of me. We do it because he wants to do it. He's impressed med as a driver and as a young man. It's fun to see him and all his hard work be rewarded with a win here tonight."
Harrison's mother, Kimberle, also was in attendance and naturally happy with the result.
Harrison Burton took the lead from Paul Schafer Jr., who finished second.
Rico Abreu, who will run the NASCAR K&N Series this season after winning the Chili Bowl last month, was 23rd.